[contextly_auto_sidebar id="3BXI0gx6g2APPzSTAgIfCMxuJKZAolOM"]
RACING on a deadline, but can't resist posting this 1973 footage of Marley singing Concrete Jungle with the original Wailers. Sorry for cacophonous ad at beginning. Listen to those harmonies! This is like post-apocalyptic soul music.
In my 20s I was a huge fan of '60s/early '70s Jamaican music (ska, rocksteady, lovers rock, dub) and interviewed the great producer Coxsone Dodd.
My favorite Marley may be the acoustic medley, including the song "Hurting Inside," the appears on the box sex Songs of Freedom. But songs like "Rebel Music" are hard not to love as well.
RIP to a great, passionate, political artist who fought for what he believed in but was felled by cancer far too young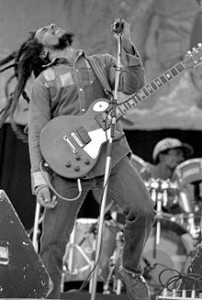 .