[contextly_auto_sidebar id="jzqLTuB5rmQYkgMOc3cPogWpL4eHcyGM"]
For the last two weeks I've been touring behind my book, doing lots of public-radio interview, and in some cases dueling with people who disagree with me. The concentrated attention has made me think long and hard about my stance and my values.
One of the things I've realized is that my politics are an odd cross between Teddy Roosevelt and The Clash. (To be clear, I don't agree with either the Republican president or the British punks about everything.) The latter is not really a surprise to me; I was crazy about punk rock in high school and college, London Calling may be my favorite album post-Beatles, and one of its songs, "Lost in the Supermarket," lends its title to my chapter on runaway capitalism and unchecked consumerism.
Here is that great song, with a montage of Clash posters and album jackets.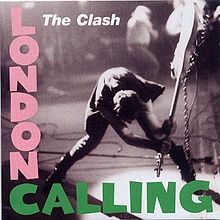 The Sex Pistols represented a different lineage based on consumerism, nihilism, and Warholism. (I loved them at the time but they now remind me of Jeff Koons's faux-rebellion.)
What set the Clash apart for me was telling the truth, telling it with force (and artistry — their songs post-debut were beautifully crafted), and not letting the bastards win. These are lessons that shaped my point of view profoundly.