[contextly_auto_sidebar id="9SH7Jz0T3AVOjswZ9pMhaO2BBpIbBBbX"]
ONE of my all-time favorite social critics is the late, great author of Amusing Ourselves To Death: Public Discourse in the Age of Show Business. (I'm even fonder of his book Technopoly, which came out in the early '90s but remains one of the great books about what the Internet would do to us.)
So my senses were stirred when I began to see writers on various sides of the spectrum — Matt Bai on politics, Jaron Lanier on technology and economics, Sherry Turkle and digital gadgets and our souls — drawing from his vision.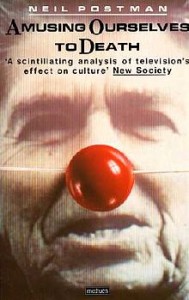 The result is my new piece on Salon, here. I begin it this way:
These days, even the kind of educated person who might have once disdained TV and scorned electronic gadgets debates plot turns from "Game of Thrones" and carries an app-laden iPhone. The few left concerned about the effects of the Internet are dismissed as Luddites or killjoys who are on the wrong side of history. A new kind of consensus has shaped up as Steve Jobs becomes the new John Lennon, Amanda Palmer the new Liz Phair, and Elon Musk's rebel cool graces magazines covers. Conservatives praise Silicon Valley for its entrepreneurial energy; a Democratic president steers millions of dollars of funding to Amazon.

It seems like a funny era for the work of a cautionary social critic, one often dubious about the wonders of technology – including television — whose most famous book came out three decades ago.
Like anyone who wrote in decades past, some of his work has dated. But much of it is more relevant than ever.