[contextly_auto_sidebar id="PVd8mrLaWjsXaMaGJ86HIjTmHjDjQjiA"]
WHAT has art — and the artist as its maker — come to mean after postmodernism and four decades after Warhol's emergence? That's a question Sarah Thornton — a very sharp British sociologist with an interest in visual art — asks in her newish book 33 Artists in 3 Acts.
I'm only partway through Thornton's book, which is full of smart observations. A few lines from Anna Altman's BookForum review keep echoing for me:
Contemporary artists, [Thornton] argues. are as devoted to their self-presentation as their artworks, managing their audiences with calculated, guarded gestures. Nothing is unselfconscious in this world. Everything is image.
Thornton tries to get Jeff Koons to talk in ways about something besides PR and platitudes, but can't nail him down. "Koons's discourse is so pat that you feel you are in the presence of an actor playing the role of an artist."
It's interesting to note that for some of the artists outside the Angl0-US axis, there is more at stake in art than money and image. (China's Ai Weiwei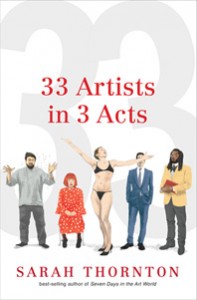 is one of those chronicled.)
This book may be even more insightful than her previous Seven Days in the Art World.