[contextly_auto_sidebar id="7ocf4Du4J7q0MwSCTfQQr9rCt1ruYmRF"]
ONE of the subjects that makes the disruption boys' hearts race is the idea that technology will get rid of the gatekeepers — those record-store clerks and publishing-house editors and journalistic critics who just get in the way of the pure, frictionless working of capitalism. If you own a company — esp a tech company that feeds on other people's creative output — it's great news is you can remove a layer of employees. (Thus, you're not paying the creatives, and you're no longer paying the middlemen.)
This makes hard-headed economic sense — why not let an app or algorithm do everything? — but it's a disaster for the culture. (You're talking about removing the human beings who've chosen to work around books and music and art because they love it.) If it's all automated, we have almost no creative class.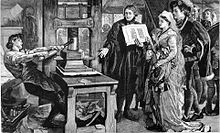 What this loss means is the subject of a new Slate piece by legendary editor Daniel Menaker.
These moves are at odds with Amazon's objective to "disintermediate" the connection between writers and readers. Right now, the principal intermediaries between writers and readers continue to be publishing companies, large and small. They make their choices, pay more or less for them (usually less), more or less support them (usually less), hope that they have good bets and good luck in the casino that is publishing. In my judgment, there are between 20 and 30 editors and publishers in New York who—along with experienced and discriminating publicists, marketers, and sales reps—have over the decades regularly and successfully combined art and commerce and, in the process, have supported and promulgated art. They are in fact the main curators of our life of letters. They have somehow survived the grinding—tectonic—friction between creativity and business and made a go of both. They are cultural heroes, actually.
As an analysand and an armchair analyst, I can't help suspecting that whether they consciously know it or not, people like Jeff Bezos and the New Republic's Chris Hughes want some of that. Well, they can't have it.
A piece well worth reading.