[contextly_auto_sidebar id="Pln6fxEk2TX0tQNMAlUpd0JSCmyG43Dh"]
WHEN I was in Puebla, Mexico, a few weeks back, the story of the 43 missing students — thought to have been murdered by a collusion between a drug gang and government officials in Guerrero — was heating up and protests were beginning. To some, they are the latest victims of the War on Drugs launched, and largely maintained, by the U.S.
Part of what was interesting about the conference I attended — La Ciudad de las Ideas, vaguely based on Aspen — was that nearly everyone seemed to think that the War on Drugs had been a disaster, especially for Mexico. This was true even of one of the festival sponsors, media mogul Ricardo Salinas, and when he and other speakers talked about the damage it had done, the response from the crowd was enormous.
The most direct engagement with the issue cam from the speaker Ethan Nadelmann, whose address at the conference was crisp, energetic and persuasive. Founder of the Drug Policy Alliance, Nadelmann began with: "I want to apologize, as an American, for the havoc that my country has wreaked on Mexico" and other countries of Latin America through its drug war. He described his apology as delivered "in the spirit of a North American brother."
The War on Drugs — launched, effectively, by the Nixon administration, and amped up by Pres. Reagan — was brought to you by the same country that had so much success with Prohibition, Nadelmann pointed out. It's played a major role in pu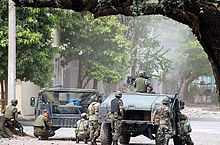 tting 2.3 Americans behind bars, in state and federal prisons. It's done enormous damage both at home and abroad, and has — in the way the mafia thrived during our Prohibition — build a robust network of organized crime across Latin America.
Mexico, Nadelmann said, seemed to be at a crossroads moment, where it might follow the lead of California and other liberal states that have begun to decriminalize marijuana (which has consumed the majority of resources in the fight), or might double-down on its cat and mouse game. (The Atlantic reports 50,000 deaths from Mexico's version of the War on Drugs from 2006 to '12 alone; other estimates are considerably higher.)
For what it's worth, I'm currently reading Eric Schlosser's Reefer Madness, which looks at paranoia and government overreach in dealing with pot, as well as other aspects of the underground economy. Incredible and dispiriting tale.
I don't have a recording of Nadelmann's excellent address, but here's at TED talk he gave in October. It's time to take this argument seriously.