[contextly_auto_sidebar id="Iwl9o6IO0qS8QhMgMHnnfdwEgtpDwMBi"]
ONE of the best books on life in the digital age — and perhaps the one closest to my own point of view — is Nicholas Carr's The Shallows: What the Internet is Doing to Our Brains. I like it for a host of reasons, among them Carr's elegant style, cool tone, and literary and humanistic sensibility. Among my favorite passages:
When I summon up images from my early years, they seem at once comforting and alien, like stills from a G-rated David Lynch film. There's the bulky mustard-yellow telephone affixed to the wall of our kitchen, with its rotary dial and long, coiled cord. There's my dad fiddling with the rabbit ears on top of the TV, vainly trying to get rid of the snow obscuring the Reds game. There's the rolled-up, dew-dampened morning newspaper lying in our gravel driveway. There's the hi-fi console in the living room, a few record jackets and dust sleeves (some from my older siblings' Beatles albums) scattered on the carpet around it. And downstairs, in the musty basement family room, there are the books on the bookshelves – lots of books – with their many-colored spines, each bearing a title and the name of a writer.
This is one of many epigraphs I originally included in Culture Crash the book, but which ended up on the cutting room floor. (I could publish an entire, shortish book made up of quotes that almost went into Culture Crash.)
I've just started to read Carr's new book, The Glass Cage: Automation and Us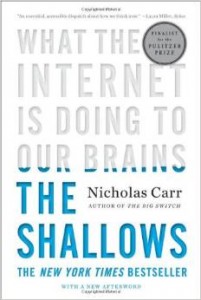 . An important writer and thinker, and someone who sees through a lot of the hype.