[contextly_auto_sidebar id="ocaaAdSFWvE4N0CAxZumQsegvYINpapN"]
IT was no surprise that two of the greatest trios in jazz today put on bracing and powerful sets. What was new was that these two groups performed in the San Fernando Valley, an enormous swatch of suburbia that has often lagged behind the rest of Los Angeles for most kinds of culture. (As Easterners have often looked down on LA, Angelenos have typically looked down on the Valley.) Plenty of jazz musicians and other luminaries have lived in the Valley, and there have been some decent jazz clubs.
But it's only in the last few years that there has been a major venue to offer classical music, ballet, jazz and so on. The Valley Performing Arts Center, on the campus of Cal State Northridge, offers a 1,700 Great Hall with warm acoustics and a sleek (but not cold) modern design. It's a LEED Gold building with a lot of handsome wood (Anigre, similar to maple), an expansive lobby that makes pre- and post-concert socializing easy, and nicely manicured outdoor space.
I was there, of course, mostly for the music.
I knew Mehldau's group, which builds on the work of Bill Evans's forceful and sensitive early-'60s trio. The opening number, "Spiral," a song Mehldau wrote but has not yet recorded, captures exactly what I like about this group: Brooding, more tension than release, the song burrow into itself as if the pianist is working through something deep. His bassist, Larry Grenadier, is one of the best, most expressive players in the business. The trio played only a few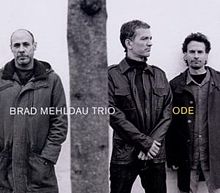 songs (including Elmo Hope's uptempo, boppish "Dee-Dah," which they played at Disney Hall not long ago.)
They closed with a relaxed, funky number. I've seen Mehldau play nearly 10 times, and with the exception of one unhinged night at the old Largo, this is as good as I've ever seen him. He was relaxed, the acoustics make the music very present, and the chemistry between the members of the trio very strong.
The Bad Plus are — like Mehldau's group — Gen Xers committed to mid-century jazz but also interested in rock music: They've covered Nirvana and Blondie just as the more melancholic pianist has offered memorable versions of Radiohead and Nick Drake. This was, in other words, a very natural double bill.
But when the Bad Plus (right) took the stage and started to play, they made Mehldau and company seem like jazz traditionalists. With more assertive percussion, a more forceful rhythmic approach, a tendency toward long vamps, and a wry/oddball sense of humor in the betweens-song banter, it became clear how these guys have reached rock fans.
Most of the songs came from the group's new LP, Inevitable Western, the highlight for me was the urgent "Gold Prisms Incorporated." For some songs, David King's drumming dominated. But the laconic bassist Reid Anderson, a Minnesotan with hangdog, deadpan delivery, was another stunningly lyrical player. I've got a number of this group's records, but seeing them live really emphasized their virtuosity rather than just the shapes of the songs.

Iverson finds unlikely, knotty little notes and figures within the chord. The group calls itself "a leaderless trio," and it's largely true, though Iverson has distinguished himself not only as one of his generation's leading pianists, but as a smart writer on jazz as well. (He's a sort of goateed, jazzbo Jeremy Denk.)
The audience — appreciative but a bit sparse at first — filled in as the night went on, and there seemed to be plenty of students.
It's not quite as easy to deal with a show at the Valley PAC as it is to roll into, say, Disney Hall. You either take a shuttle from a lot or walk about 10 minutes from another one. I have a terrible sense of direction, though, and found my way to and from it fine — especially thanks to a helpful usher stationed on campus.
Here's hoping this isn't the last time jazz artists of this caliber play to large audiences in the Valley.