[contextly_auto_sidebar id="UGGL08WFaVocMMEMVIGcVFFUfCALT1t1″]
IF you've followed the debate about the post-label, post-album music world, you've heard the cries of the optimists: Just get in the tourbus! Even digital utopians will concede that revenues from recordings are way down, but they assure us that bands can make up the different by playing shows. It is part of a larger neoliberal gospel that says all that creative types need to do about the rigged new economy is to "adjust."
The reality is that once you get below the level of the mainstream dinosaur acts — the Stones, Eagles, Billy Joel — and corporate behemoths like Taylor and Beyonce, things get tight very fast. The latest evidence of how difficult making money from the road can be comes from a member of Pomplamoose, a Bay Area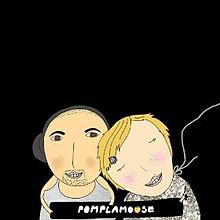 band with millions of YouTube hits and an enormous following, much of it from its oddball/ inventive covers of familiar songs.
Here is Jack Conte, one of the group's two members, on their latest tour:
Being in an indie band is running a never-ending, rewarding, scary, low-margin small business. In order to plan and execute our Fall tour, we had to prepare for months, slowly gathering risk and debt before selling a single ticket. We had to rent lights. And book hotel rooms. And rent a van. And assemble a crew. And buy road cases for our instruments. And rent a trailer. And….

All of that required an upfront investment from Nataly and me. We don't have a label lending us "tour support." We put those expenses right on our credit cards. $17,000 on one credit card and $7,000 on the other, to be more specific. And then we planned (or hoped) to make that back in ticket sales.
Well, the tour was enormously successful, with packed halls and adoring fan. And, the band lost money:
Add it up, and that's $135,983 in total income for our tour. And we had$147,802 in expenses.
Conte concludes that it's still worth it, and that there are ways — some of them new — for bands to make money. But please, when a group with this kind of following cannot even break even on a monthlong, 23-city tour, please stop telling us that all a band has to do is hit the road.
His whole piece — here — is worth a read, especially for musicians.