[contextly_auto_sidebar id="OBug1WHMcv4Mu8jWVEU2LxPTK8wO2pBx"]
A NEW book by a British academic has charged that the Venezuelan-born classical-music-for-all program is run like something between a corporation and a cult. I've not seen the book yet, but David Ng of the LA Times interviews its author, Geoffrey Baker. Here's Baker — whose book is published by Oxford University Press — discussing Jose Antonio Abreu:
El Sistema has a monopoly on classical music in Venezuela. Abreu is famed for his intolerance of criticism. There are many stories of people who have crossed him, and have been blacklisted and fired. Everyone depends on El Sistema to a degree and to go against it is professional suicide. None of these people would have spoken to me on the record. They were saying strong things. Anonymity was a first step to opening up.
The program's most famous alum, of course, is LA Philharmonic conductor Gustavo Dudamel, who leads the El Sistema-affiliated Simon Bolivar Orchestra (pictured.)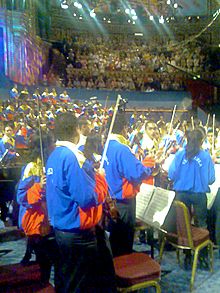 The Guardian has a story by Baker in which he quotes someone calling the program "a model of tyranny." This article takes a broader look at the program, especially in the UK.
[Correction made above to fix the press that will publish Baker's book.]