[contextly_auto_sidebar id="GoFGOT4Q6EPfBqiYMIbBn4gpMbiXLSMV"]
IT would give me a contrarian thrill if I could come out against what may be the best-reviewed movie of the year. But Boyhood, which I finally caught up with, struck me as the most profound film I've seen in years.
The New York Times review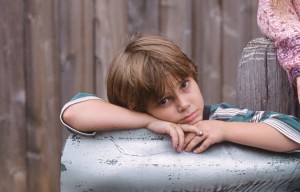 , by my friend Manohla Dargis, caught a hint of the movie's poetry.
The realism is jolting, and so brilliantly realized and understated that it would be easy to overlook. In "Boyhood," Mr. Linklater's inspired idea of showing the very thing that most movies either ignore or awkwardly elide — the passage of time — is its impressive, headline-making conceit. Starting in 2002, he gathered his four lead actors each year for a three- to four-day shoot, working on the script as they went along…

What emerged from those dozen years is a series of meticulously textured and structured scenes set to the rhythm of life. The structure is crucial. Mr. Linklater has long experimented with nontraditional narratives, from the baton-relay form of "Slacker," in which he leaves one character to follow the next, to the peripatetic ramblings of his "Before" trilogy. His films are sometimes mischaracterized as having no plot, perhaps because they may seem so, when compared with aggressively incident-jammed mainstream movies. One of the fascinating things about "Boyhood" is that a lot happens — there are parties and fights, laughter and tears — but all these events take place in a distinctly quotidian register and without the usual filmmaking prodding and cues.
Peter Rainer also wrote a very resonant review for the Christian Science Monitor, praising Linklater as the most gifted director of his generation, which now seems to be behind a paywall.
I've got some thoughts on the film and will try to get into them over the next few days. Among them: Linklater, who I had lunch with around the release of Waking Life, is nearly as good as fellow director Quentin Tarantino at choosing music for his films. Also, when Mason's voice changes, out of the blue, the shock is almost violent.