[contextly_auto_sidebar id="i8fGP35j28y9jQ6G5JGv4lGoSeq95eDP"]
NOTORIOUS to some, beloved by others, the California poet has this to say about Culture Crash, my upcoming book:
Scott Timberg has written an original and important study. He explores some of the most pressing cultural issues affecting the arts and intellectual life with remarkable clarity. This is the first analysis of our current culture from the bottom up — the precarious situation of the individual artists, writers, and musicians who are now struggling to survive.
Dana may be best known as a recent chair of the National Endowment for the Arts, but he's also a poet, an important/controversial critic — his Can Poetry Matter? is an essential w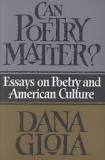 ork — and recently, USC professor.
Whatever you call him, I'm very glad to have Dana on the jacket of Culture Crash, which Yale University Press releases in January.
From our Department of Self-Promotion