[contextly_auto_sidebar id="rsTsrc9iWZyWOtGEurvcdQNW78Mrk5Dy"]
TODAY I have a new Salon post that quotes an Iggy Pop speech in the UK, and tries to make sense of it.
Well into the age of streaming, we're still hearing from a few musicians – most of them promoted and even employed by the tech sector – that we live in the best of all possible worlds. Some resent the new arrangement, where they earn pennies from Spotify or Pandora plays, but don't want to antagonize what's left of the music industry. Journalists often hear from new streaming services that claim to be "artist friendly" despite their low royalty rates.

So it's refreshing when established musicians speak honestly about the current crisis.
The whole piece is here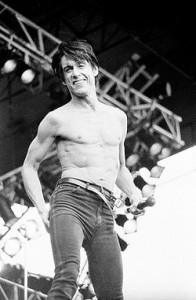 .
And a story in the Globe and Mail adds to Pop's argument:
A few days before Iggy's lecture, Australian novelist Richard Flanagan won the Booker Prize, the most prestigious in the literary world, for his Second World War story The Narrow Road to the Deep North. Just in time, it sounds like: Mr. Flanagan told reporters that he was making so little from his writing that he was thinking about packing it in and becoming a miner. (He comes from a small mining town in Tasmania.) The prize money of about $90,000 and the following sales bump will allow him to continue, but most of his colleagues aren't so lucky: "Writing is a very hard life for so many writers," he said.

This is borne out not only in the quiet sobbing you hear in corners at poetry readings, but in the numbers. This summer, the Guardian newspaper reported that professional writers' salaries in Britain are collapsing, falling almost 30 per cent over eight years to $20,000.

Here, the Writers' Union of Canada estimates that authors make an average of $12,000 a year from their words. That will buy approximately two wheels of a car or a door knob on a house in Toronto or Calgary (a broken knob, if the house is in Vancouver).
Here's that full story by Elizabeth Renzetti.