[contextly_auto_sidebar id="6oJMFpFGim9R2BdzLisDHKzhOIShkqfL"]
I WANT to go back for a minute to Alex Ross's wonderful piece, "The Naysayers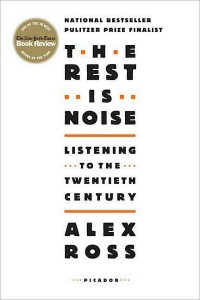 ," on the Frankfurt School. Ross drifts between interpretations here, but he comes up with a very resonant description of what's gone wrong with our culture over the last few decades:
If Adorno were to look upon the cultural landscape of the twenty-first century, he might take grim satisfaction in seeing his fondest fears realized. The pop hegemony is all but complete, its superstars dominating the media and wielding the economic might of tycoons. They live full time in the unreal realm of the mega-rich, yet they hide behind a folksy façade, wolfing down pizza at the Oscars and cheering sports teams from V.I.P. boxes. Meanwhile, traditional bourgeois genres are kicked to the margins, their demographics undesirable, their life styles uncool, their formal intricacies ill suited to the transmission networks of the digital age. Opera, dance, poetry, and the literary novel are still called "élitist," despite the fact that the world's real power has little use for them. The old hierarchy of high and low has become a sham: pop is the ruling party.

The Internet threatens final confirmation of Adorno and Horkheimer's dictum that the culture industry allows the "freedom to choose what is always the same." Culture appears more monolithic than ever, with a few gigantic corporations—Google, Apple, Facebook, Amazon—presiding over unprecedented monopolies. Internet discourse has become tighter, more coercive. Search engines guide you away from peculiar words. ("Did you mean . . . ?") Headlines have an authoritarian bark ("This Map of Planes in the Air Right Now Will Blow Your Mind"). "Most Read" lists at the top of Web sites imply that you should read the same stories everyone else is reading. Technology conspires with populism to create an ideologically vacant dictatorship of likes.
Neither Ross (nor I) see this as the whole story of 21st century culture. There are plenty of good things, too.
But as wrong as Adorno could be about some things (jazz, the jitterbug), he saw some of this coming. And Ross summarizes one side of the equation quite eloquently.