[contextly_auto_sidebar id="h6kHO9RuWKQjpO1pgA06PU80n7f3lQ1n"]
JOSHUA Wolf Shenk's new book, Powers of Two: Finding the Essence of Innovation in Creative Pairs, is the subject of my latest story. Shenk looks at more than 100 partnerships — some overt, some hidden — to try to distill the process of creation and derive patterns. He works especially with figures in literature and the arts — J.R.R. Tolkien and C.S. Lewis, Balanchine and Suzanne Farrell, and so on.
When I saw Shenk's recent cover in the Atlantic, on the Lennon-McCartney partnership, I was skeptical. Is there anything left to say about the Beatles at this point, especially after books like Ian MacDonald's Revolution in the Head demystified that supposedly magical mind-meld between the two. (We increasingly think of "John songs" and "Paul songs." The rise of George Harrison's capital in recent years seems to complicate the old notion still further.)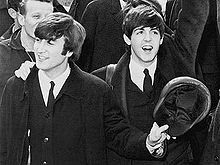 And I know people who admire Shenk's work but are not convinced by the book's argument — that duos are the rule in creative work.
But the Atlantic article, and Powers of Two, won me over. Shenk is a hard-working and earnest dude who really dug into the history and psychology of his subjects. He also struck the right balance between observing rules and respecting the "sea of mystery" around creativity — he admits we can't really explain it all.
I found him less neurotic, in our meeting, than he describes himself. But he's very rigorous, hard on himself, and has turned out a book everyone interested in the workings of creativity should check out.
I ended up with way more good quotes than I could use in my piece, and hope to post some of them here.