[contextly_auto_sidebar id="hHJ8eiJnuFjsqO6u5KIkazfFviuefQB1″]
BY now it's pretty well know that the comedian best know for "King Tut" and the arrow through the head is not just another show-business dilettante: This dude is a real and committed musician. But even with high expectations, I was pleasantly surprised by the strength and seriousness of Martin's banjo playing and the bluegrass group he sometimes leads, North Carolina's Steep Canyon Rangers. I saw them as part of a 4th of July celebration at the Hollywood Bowl, with Edie Brickell as singer for some of it. (Her estranged husband Paul Simon came out for a fairly puzzling cameo.)
Martin offered a few jokes — winningly — in his famous dry-ice style. But he was mostly at the Bowl to play; he's been playing the banjo onstage since the '70s and is clearly drawn to its lonely and mournful resonances especially. Martin is a complex guy, and it's not hard to see how this music, with its emotional highs and lows, and the sense of communion playing in a group offer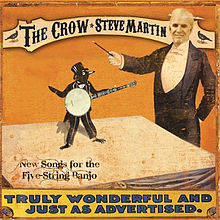 s, would appeal to him.
Some of the highlights included one of his earliest numbers, "Daddy Played the Banjo," a tribute to Pete Seeger — "Gentleman Pete" — and the Brickell-sung number, "When You Get to Asheville," that opens their 2013 album, Love Has Come For You. (As much as I liked the performance of the song, I wish they could have found a better second line for a pining song of rural nostalgia than "Send me an email.")
The Rangers were strong all around. But it's hard not to single out the fiddle player, Nicky Sanders, who drew my attention even before a long bravura solo near the show's end, where he seemed to play a bit from almost every genre of music imaginable. I was happy to bump into the dude on the way out and to shake his hand.
For what it's worth, the Air Force band that opened the show was not terribly inspiring, and the film music they played was not exactly at the level of Bernard Herrmann or Ennio Morricone. But between Martin's group, the fireworks, and the Bowl's serene setting, it was a wonderful night altogether.