[contextly_auto_sidebar id="9cukHwn37jIza9qSYJkcWoPfxa124uvq"]
DESPITE the struggles of many visual artists, not to mention the stagnant middle class in the Anglo-American world, art's auction market continues to boom. The latest story from the New York Times, on the London auction season, has some interesting details.
"The sleepy days of collecting are over," said Amy Cappellazzo, the co-founder of the New York-based Art Agency, Partners, who was in London bidding on works by Lucio Fontana and Roy Lichtenstein on behalf of clients she advises. "The wealthiest of the wealthy now view art as an alternative currency. It's become a very big business."
There are apparently something like 36,000 artists in the international auction market for contemporary art. W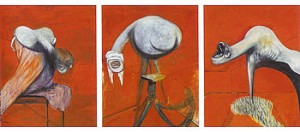 e see a winner-take-all economy – not unlike the larger US or British economies — taking shape:
Anders Petterson, the founder and managing director for the London-based analysts ArtTactic, said in an email that the 10 most expensive artists accounted for 73 percent of the £192.6 million aggregate total achieved at Sotheby's and Christie's evening sales.
It's true not just of high yielding artists like the late Francis Bacon (whose work is pictured), but of the people buying, too. "In other words," writes Times scribe Scott Reyburn, "despite all the media reports devoted to the relentless growth of the art market, that night at Christie's it remained the preserve of the 0.1 percent of the 0.1 percent."