[contextly_auto_sidebar id="u4Dlzk0r3mKVO47xkZOYDpbn6EaCJhpT"]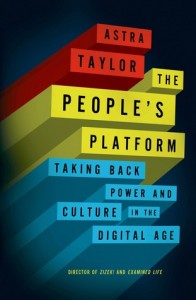 HOW has the Internet changed our culture, politics, and economic structures? One of the smartest answers to this complicated question comes from lefty filmmaker Astra Taylor. I spoke to Taylor, who also has a foot in the indie-rock world, about her new book The People's Platform: Taking Back Power and Culture in the Digital Age.
Here's my interview. And here's how we lead off
So there have been a number of cautionary books about the Internet already, some of them quite good. What story did you think that we weren't hearing about the effects of technology?

I definitely thought there was something missing, a critique or an analysis that really emphasized the economic underpinnings of this technological transformation; what I thought was missing, to use the academic phase, was a political economy of new media. And in that sense there wasn't a book written for a popular audience that was a left critique of the Internet. Because there was Nicholas Carr's good book "The Shallows," which I actually quite liked. And Jaron Lanier's more eccentric and interesting books. But they're not leftist manifestos.

I felt like there's something missing from those books too, about the continuation of not just economic hierarchies, which of course I'm paying attention to, because that's what political economy is all about, but also social hierarchies… And so I do think there's something about being a leftist but also just being a feminist that puts a different twist on this.
Will try to fill this in a bit more. For now, please read my interview — and check out Taylor's important book.
ALSO: One of the groups doing the best work to help creative types negotiate the new landscape is the Future of Music Coalition. We disagree on some matters, but FMC — founded by genuine '90s indie rockers — does invaluable research on the lives and careers of musicians today, among things.
A new essay on FMC's website looks at a subject close to our heart here at CultureCrash — college radio. "Solid Advice on Saving College Radio" is largely about an exhibit put on by the University of Maryland's station, FMUC, a station that struggled mightily when its funding was slashed in 2011. But the piece also looks at the role of college stations in the 21st century, as commercial radio gets even worse, and during which
college radio is under new pressures, as short-sighted college administrators slash station budgets, sometimes even selling off licenses in an attempt to overcome financial shortfalls. And some college stations have drifted from their historic mission and closely emulate commercial radio, or aren't even staffed by students.
The essay closes with some pragmatic steps on how these stations can survive these rough times. I'll point out at the stations run by Wesleyan University, UNC-Chapel Hill, and Loyola Marymount University have brought me huge doses of pleasure at various points of my life.
FINALLY: Enjoyed reading this story re the musical influences on Nels Cline (lately of Wilco), including late, great jazz guitarist Jim Hall.