[contextly_auto_sidebar id="nyU3WlOOWJ6AtWo9GPWNXOReGdrv3jlA"]
WHAT could be the first skirmish in a larger war is shaping up in Hollywood, where L.A. musicians are protesting a studio's hiring of foreign musicians. The protestors are telling the Lionsgate studio, which distributes the Hunger Games movies, to "stop sending musicians' jobs overseas." It comes after a protest by the American Federation of Musicians against offshoring by Marvel Studios. From Richard Verrier's story:
The unrest comes at a time of growing anxiety in the local music industry, where film and television work have been a key source of income for hundreds of local violinists, cellists, trombonists and other professional musicians. Many use the entertainment work to supplement what they earn from working in local symphonies, chamber groups and the L.A. Opera.
The great burgeoning of West Coast jazz in the late '40s and '50s took place partly because television and movie studios attracted musicians to L.A. and k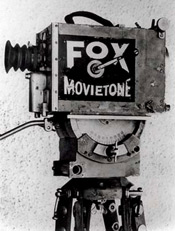 ept them employed; many played in studio bands by day and stretched out in more adventurous jazz groups by night. It's kept L.A. music scene robust over the decades. But that may be changing, with earnings cut in half in just seven years:
On any given day, about 2,000 members of AFM Local 47 will work on a film or TV show. But their earnings have fallen substantially in recent years. In 2007, union members collectively made $30 million in wages. Now, they earn about $15 million a year, according to Local 47, which represents 7,400 musicians, arrangers and copyists.
Atypically, the musicians and the studio execs are on the same side here, at least in one aspect: Both are lobbying for California to expand its tax credit to
For journalists, photographers and other members of the creative class, the withering of film-music employment is all too familiar.