[contextly_auto_sidebar id="bf0FrQh0qNpnPUaXjMY1eGrcVaOQV5gc"]
IT'S never been easy to make a living as a creative being, and recent years have made it even more difficult for anyone without a trust fund. So I'm quite cheered by the recent appearance of a handsome, useful book, Living and Sustaining a Creative Life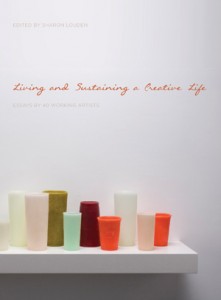 . Edited by the Brooklyn-based, Yale-educated artist Sharon Louden, it's subtitled "Essays by 40 Working Artists." (About half of them are based in New York.)
Part of what I like about the book (published by Chicago-based Intellect) is its balance between hard-headed pragmatism and idealism about the artist's mission. It shares some concerns — the dangers of romanticism, the relationship of artists to the larger society — with my own upcoming book Culture Crash, though Louden's book is more dedicated to seeking solutions.
Here's my conversation with Louden.
Q: The way artists earn their living, you write in your preface, "has been neglected and pushed to the margins of art discourse throughout history, almost as if it were a source of embarrassment." Why do you think that is? Are their art-historical reasons for the issue's obscurity?
A: I can only guess because we have been romanticized for a long time. Artists have always been isolated and characterized as "gifted" and not part of the normal work force. By our being put in this place, we are not as integrated in society as we actually should be – sort of like "normal" workers.  A lot of artists give to the economy in so many ways, including often paying two rents (for a studio and apartment) versus just one. We are self-employed, small businesses, and as such, we often employ others to help us, like framers, accountants, studio assistants, lawyers, website designers, photographers, etc. We also collaborate with curators and gallery dealers. We are a functioning part of society and yet because we have been in a bubble, we are isolated. If we can find a way to see ourselves more productively — say, small business entrepreneurs — we would be less neglected. We must show how purposeful we are.
A book about how artists support themselves would probably be valuable at any historical period. But does the current moment make this kind of thing especially timely?
Indeed. However, I find this topic would have been valuable long ago as well. Money is something artists generally are not transparent about nor is the art world, for that matter. I'm seeking transparency in sharing information and empowering artists. My hope is that this book helps integrate this conversation into our daily habits.
Has the myth of the starving artist done damage to the way the public, and perhaps artists themselves, view the situation?
Yes. I see this problem wrapped into the issue of public viewing us as "special" and "different." I believe the public sees us looking a certain way and should only make a certain amount of money. We're also often viewed as being lazy. These points are all wrong. In fact, we are some of the most gifted and hardest working individuals in the workforce! We have many talents that are golden skills in navigating life: we can take risks easily, we can multi-task, we can think outside of the box as we do in our studios. And we can look at things very differently which can lead to discovering creative solutions to problems and issues. But instead, we are still characterized as "starving artists" which is, for the most part, not true. Since it takes money to run a studio, professional artists must make money to support the operation. Whether he/she is lucky enough to pay the bills selling their work is besides the point.
Was there a problem – or a set of solutions – that several of the artists in the book had in common, something that came up again and again?
I wouldn't say that common problems came out in the book, but most definitely a common theme running throughout is the need to keep expenses as low as possible. Finding inexpensive real estate seemed to also come up, which is why you find many artists playing the role of "frontiersman" in many urban environments, populating neglected parts of towns and cities because of the cheap rent. It's also why there is much talk about whether it makes sense for young artists to come to New York City and deal with the high rents and out-of-control expenses.  The goal has always been to carve out a life which allows you to spend as much time in your studio as possible in order to continually develop your work.
Did you hear about impact of the recession a lot? Are visual artists still feeling its sting?
Yes, most definitely. I do think the 2008 economic shift made a big impact on all of these artists' lives, including the wonderful artists I have met on the book tour. Like a lot of the people in this country who are not artists, artists have had to reinvent themselves in many ways and how they promote/show their work. One benefit of the recession, though, was that we were forced to think different audiences by showing our work in different contexts, in addition to different platforms such as pop-up shows. Another positive thing about the economic downturn is how there seems to not be anymore stigmas attached to an artist: if you teach, you are an artist educator, and not just a teacher.
Twenty years ago you couldn't be taken seriously if you had a day-job, like a bartender or cab driver or art handler. No more. No one cares what you do to support yourself anymore. It's allowed us a freedom that didn't exist back then.  I do believe some artists are still feeling the sting, but I think there are a lot more positives that have come from the economic change in 2008.
What is the role of galleries and dealers in 2014?
I do believe there are a lot of benefits to showing in a gallery, but it is no longer the end all for an artist and their career. They are a showroom for an artist's work and can be a vehicle to show work at other sites such as art fairs. They still provide a filter between an artist and a collector. They can possibly provide a contribution to an artist's income. But rarely do I find that an artist solely makes a living from selling their work from one gallery, and not for an entire lifetime.
Could visual artists, who've been defined for centuries by creative independence, benefit from some kind of co-operative, union or guild?
YES. Collectively, artists in any kind of unison and community are very powerful. All of the gifts that artist have to empower, to take risks, to think outside of the box, to create from nothing… multiply that by many and you have a very powerful organization.