[contextly_auto_sidebar id="W81pySFXa3drR3WTlrmSjqp0w13uJQpJ"]
The classical pianist Jeremy Denk has just won the Avery Fisher Prize, which caps what's been a very good year or so for him. (He's working on a memoir for Random House, among other things.)
I met Denk in 2010 and was immediately impressed with playing and thinking. (His commitment to Ives was palpable.)  My story looks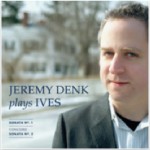 at his musicality as well as his blog.
The blog often comes to Denk during the six or so hours he rehearses each day. "I don't set out to be contrarian — but you're stuck there, next to the instrument, for hours and hours in your apartment, practicing. And inevitably, there's an amazing amount of stuff that hits your brain — about what you like about the piece, or whatever it is which wouldn't be appropriate for program notes. And also these loose and slightly disturbing thoughts — about life and playing what's now this ancient and way outdated music, and how they interact."
Looking forward to what he comes up with at the Ojai festival.
ALSO: Los Angeles's own Calder Quartet, a wonderful young group I profiled a few years back, won an Avery Fisher career grant this week. Here's my story, which tried to get at the chemistry of a string quartet.