[contextly_auto_sidebar id="UzOdqTdRr0f4bA3skq8em9vtTLiLXNnZ"]
WHAT seems to have been a throwaway line on the impracticality of the "art history major" by President Obama is stirring up art-world folk. I first read about it in this Hyperallergic post, "Obama Loves Art History But Thinks It's (Economically) Useless," which describes him praising skilled manufacturing jobs over, you know, artsy silliness.
For the most part, I like the president and some of his policies, but it makes me queasy to hear the liberal arts used as a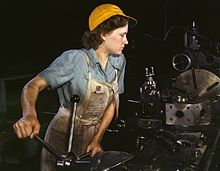 rim-shot. Today, Madeleine Brand, whose new KCRW program Press Play, is among the best news in local media, kicked off her show with the issue. Much of it was an interview with Kate Flint, USC's art-history chair. They talked about the way the average art-history graduate earns about $50,000 per year — more than the vast majority of factory jobs — how the liberal arts teach one how to think and communicate and become a deeper person, and so on.
Deep in my bones, I believe in the liberal arts dream. (I am a Wesleyan English major; my parents and wife and siblings all studied the humanities.) And I agree with most of the recoil from Obama's remarks. I'll point out here, too, that the president's allowing leadership of the National Endowments for the Arts and Humanities to languish (both currently have acting chairmen, and the NEA's historic building was sold to that vulgarian Donald Trump!) makes me wonder sometimes about his commitment to culture.
Anyway, let me stand up for the importance of a nation where everyone studies the arts and humanities, in grade school and in college, and emerges with a commitment to culture — few things are more important than that. But in the discussion over this, let's not overlook the fact that the national (and international) economy have made it quite difficult for arts and humanities majors. I can believe the fact that college is about "learning how to learn" rather than narrow pre-professional preparation, but must acknowledge, too, that I know many creative types with bachelor's and master's from prestigious universities who are out of work or close to it.
My high school and college friends who spent their time in the basement with their computers, or who moved into finance, tend to be doing vastly better financially than those of us who committed to literature, the arts, journalism, and so on. There are plenty of exceptions. The supposed recovery has left a lot of people high and dry so far. And I'm not sure most academics understand this.
The president of my alma mater, Michael S. Roth, has a book coming from Yale University Press (we have the same editor, it turns out) about the meaning and future of the liberal arts, and I look forward to it eagerly.
ALSO:
Art critic/maverick/badass Dave Hickey is one of my favorite commentators even where I disagree with him. He spoke at a MOCA-sponsored event the other night, and one blogger — Carolina Miranda of C-Monster — likes much of his writing, as well, was not impressed. He knocked critics, arts schools, and identity politics, and so on — Miranda's dissent is here.
There's been some around-and-around on the issue of classical music's health because of a Slate story declaring it "dead." Much of the resistance to this kind of (overstated) article has, I fear, a kind of shoot-the-messenger quality. Those of us in culture need to face up to shrinking/aging audiences and sales and so on rather than just celebrate the arrival of a hot young pianist or an electrifying museum show. (Of course, we need to do both.) This all said, I'm gratified to see this piece by the Washington Post's Anne Midgette, which takes the issue seriously without giving in to despair. Also, she smartly connects tensions in the arts to similar struggles in journalism.
Signing off for now, but I have what I hope readers find a substantial film piece coming over the next few days — please watch this space.
And for what it's worth, I will see Hilary Hahn play a program of new and old Scandinavian music, with the Los Angeles Philharmonic, this weekend and will try to post on that as well. So long and have a good weekend, loyal readers.