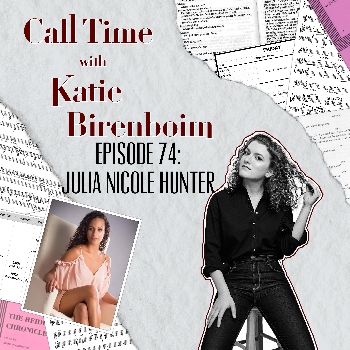 This week on the podcast, I had the absolute pleasure of chatting with one of the stars of Annie as she travels North America on Tour! It was a great interview for me because I of course worked on the tour, and got to check in with one of my besties and see how the show, company, and morale were doing, but also because Julia, as you'll see and hear in the episode, plays one of the loveliest characters in the musical theatre canon, and she is as lovely offstage as she is on.
The interview was also extremely productive because Julia could speak as a near-expert on a topic I haven't yet explored on the podcast or on Arts Journal but that's becoming increasingly important to the musical theatre industry, especially to the young performer — cruise ships! Indeed, Julia, who grew up in Nashville and then trained in musical theatre at AMDA in New York City, largely got her start on cruise ships, where she performed on regular Norwegian "free style" cruises but also on their "Regent Seven Seas" line, the Norwegian "luxury brand."
Anecdotally, I've seen the importance of cruise ships skyrocket in the last five-ten years. Perhaps it's not merely anecdotal — casting director Duncan Stewart wrote about it for Backstage in 2020, Ramsey Qubein wrote about the phenomenon for Conde Nast Traveler in 2022, and the BroadwayWorld message boards — a constant journalistic "source" for me — have been abuzz about cruise ships (the good, the bad, and the ugly) for nearly as long as I can remember trolling them.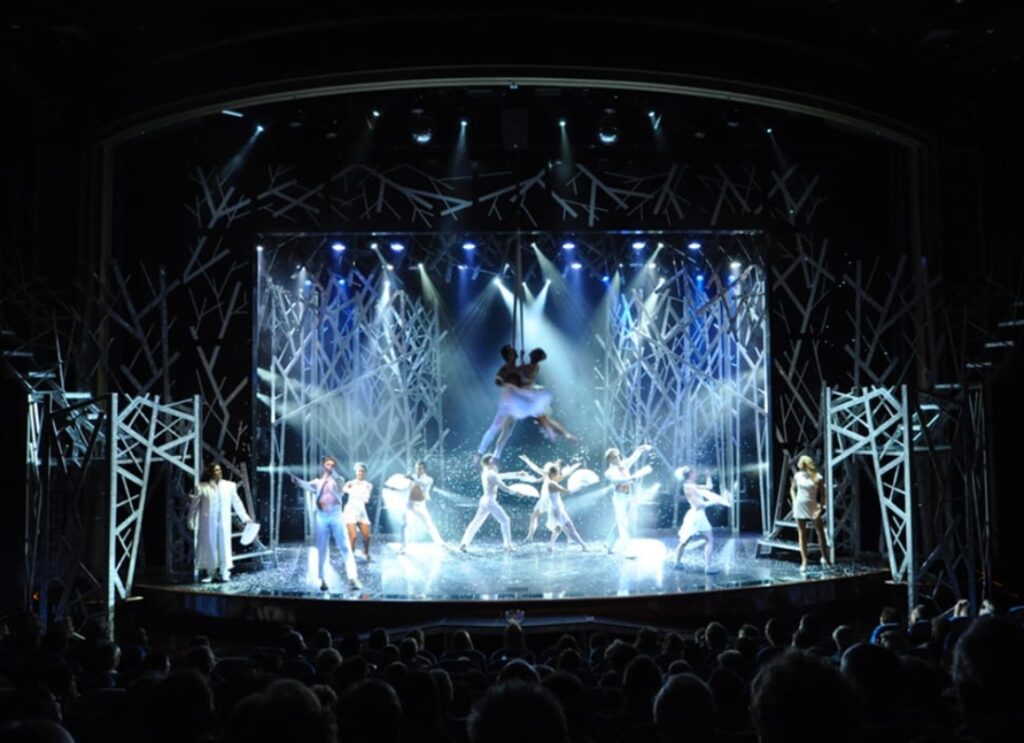 As Julia and I discuss on the podcast, cruise ships have marked themselves as an important rite of passage in the life of a musical theatre performer for several reasons. First, the obvious — Julia tells me on the podcast that because of her cruise contracts she got to visit 79 countries before turning 30. Second, and connected to the first, you get to do all of this once-in-a-lifetime travel for free, and most often by saving (and making) quite a lot of money. I have a number of friends who have been able to pay off their student loans after a few years working on cruise ships, and other people (again, on the good old message boards, so make of that what you will) have spoken about being able to buy a car or make a down payment on a house after their time on cruises. Third and finally, cruises, as Stewart and others have argued, increasingly boast Broadway-caliber production values and creative teams, but they are willing (or able) to take chances on people that Broadway can't — or won't (but that's another topic). In other words, if you are just graduating from a BFA musical theatre program, and perhaps you didn't win the Jimmy awards or have some other major stroke of luck (I promise I will write about the impact of the Jimmy's someday), you're more likely to book Chicago on a cruise ship than you are to book Chicago on Broadway (and, indeed, the cruise contract might lead to others, as it did for Julia). Of course, as Julia explains to me on the podcast, most often the shows performed on cruises are not full productions like Chicago or Hairspray — although some lines definitely do those. Usually, they are revue-style shows, focusing on song and dance, written specifically for the cruise line (you'll recall my guest, Patti, made several of these shows for Norwegian, which is how she and Julia met!).
Julia describes performing in these shows, which are often done back-to-back to accommodate as many passengers as possible, as being like "singing Defying Gravity over and over again for forty-five minutes." This makes sense — it's all the highlights! — but definitely seems to teach you about stamina and process. Other things cruise ships apparently teach you: practical things like how to make oatmeal in a kettle or how to unpack when your suitcase literally won't fit in your room, but also larger, more esoteric things like how to deal with complex social hierarchies. Indeed, Julia explains to me on the podcast — and I've heard for years — that there are very explicit social and professional hierarchies on cruise ships, where performers of all kinds don't have to do as much "work," or perform as many extra responsibilities, as the crew. Often they get to eat or live in vastly different spaces. But even among performers distinctions are made. Singers often get what's seen as "special privileges," cabins, or don't have to do certain jobs. It's a delicate balance, Julia tells me, between being sensitive to the hierarchy and not taking your experience for granted while resting in the knowledge that you signed a very specific contract, for which you "trained and spent a lot of money." As I remark on the podcast, between the largeness of the ship, all its different locations, and the diversity of the crew, performers, and passengers from all over the world, I imagine it feels like a little microcosm of a city like New York or London, with its own hierarchies, social dynamics, and challenges, but also its own fun and excitement.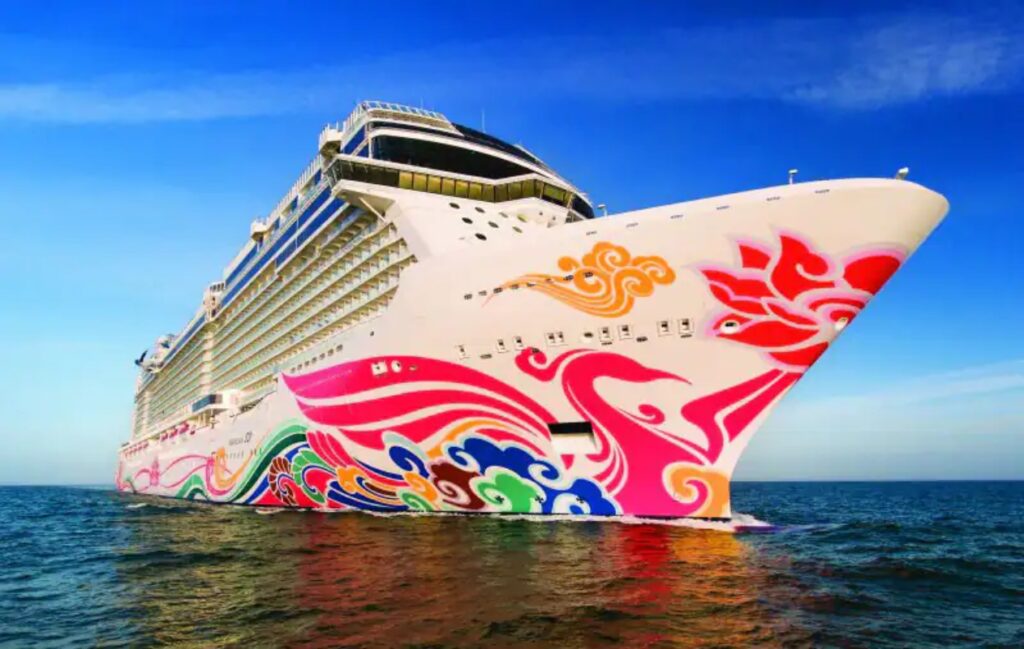 Indeed, you often get dropped off at an amazing port in a country you've never been to and essentially told — go forth; you have all day to explore! In that way, it's a lot like touring, Julia tells me on the podcast. In fact, when she got offered the Annie contract, Julia says, she had just gotten back from doing her last cruise job, and so she didn't consider it to be much of a leap in terms of lifestyle — much like on a cruise, your company, sometimes even your tour bus, and your two, allotted suitcases (true story) are your home base, from which you're dropped at any number of North American cities and essentially told to figure it out. Before we started recording, Julia was telling me about her search for a large enough Airbnb in Denver to host the entire company's Thanksgiving dinner! I told Julia I was in awe of that quality — being able to pick up anywhere and just figure it out — especially coming from a girl who, as she tells me on the podcast, cried her "first day in New York" because she couldn't figure out where or how to buy paper towels or toilet paper for her dorm room. My sense is that cruises — and touring — imbue a young performer with a crucial sense of independence, grit, and practicality within the context of a safe environment.
The Annie tour has also provided Julia with the opportunity to take some acting risks within the context of a safe environment. As she tells me on the podcast, because she had been doing cruise ships as a singer for so long — where, as discussed above, you're often singing and dancing, not speaking, in a revue-style, 45-minute show — she felt as if she wasn't as strong on the acting side. "After working with you and Jenn and Val last year," Julia says, "I definitely was like, 'oh, maybe I'm not a terrible actress and maybe I'm better at this than I think.'"
She's definitely far "better" at it than she initially thought. It's why her performance has been consistently singled out by critics as being top-notch, and why she always gets the joyous audience reaction she receives. I think a lot of that is because, in addition to the sides of her character, Grace Farrell, which Jenn (and Val and I) worked on with her — including her grit and determination as a single woman in a 1930s workplace — Julia also brings a great deal of her own natural warmth, care, and charisma to the role, all of which are essentially the theses of the play. It's like what Julia says she wants the audience to take away from the show every night: "As cliché as it sounds," she tells me, "we need that hope and that optimism, I think, more than ever right now…So I think if people can…leave feeling like they want to do something good and want to give back in their community or in the world, or just try to inspire someone to want to inspire someone else…show a little kindness…I think that would be enough." Julia is the kind of actor and person who organizes Halloween trick-or-treating for all the kids on tour even though they had a full travel day and got to their hotel late at night. She's the kind of actor who, when I spoke with her for the podcast, had already decorated for Christmas. And, of course, that's the spirit of Annie — who imbues Daddy Warbucks and everyone she encounters with a sense of can-do optimism, care, and even, yes, independence. In some ways, through her work on cruises, her training, and her own personality, heart, and soul, Julia was preparing to answer the question "will the sun come out tomorrow?" for years.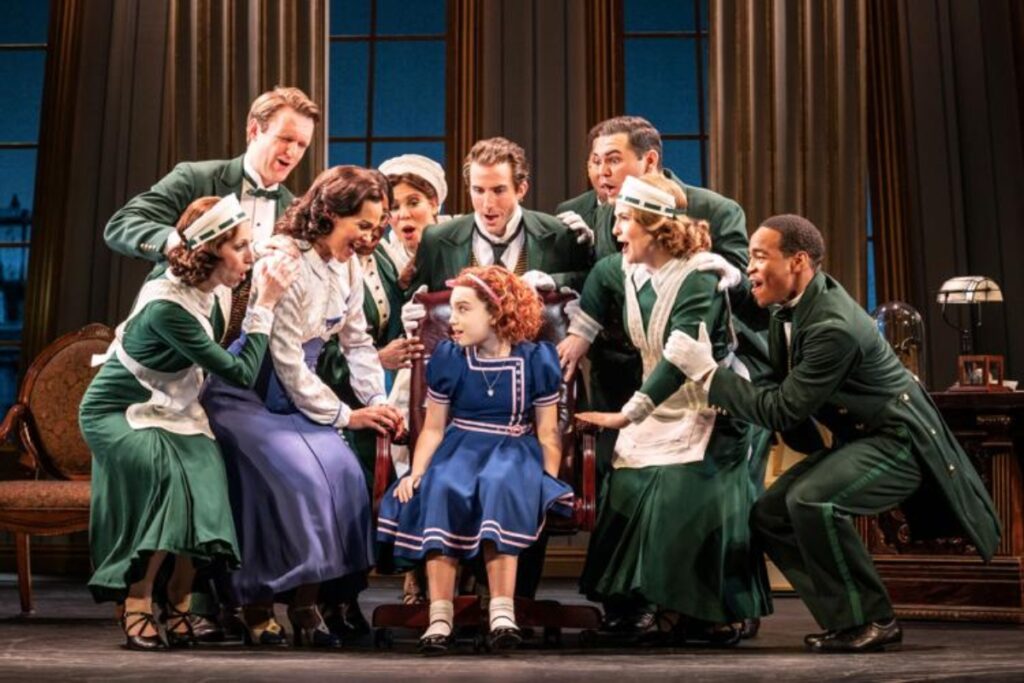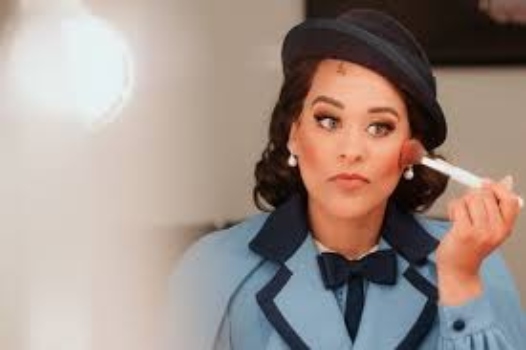 She's truly an actor to be watched and a person to befriend. I hope you'll enjoy our full episode here, where we also talk about astrology, singing in church with her grandma, meeting her British, rugby-playing boyfriend, and performing over 227 performances of the same show. And please get a ticket to see Julia in action; Annie might be coming to a city near you!