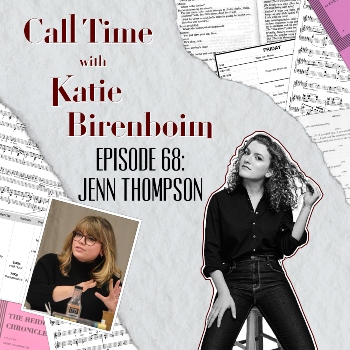 On this week's episode of the Call Time podcast, I had the pleasure to chat with the great Jenn Thompson. I call it a pleasure not only because Jenn was a beloved actor and is now one of the most in-demand and accomplished directors in the industry, but also because Jenn is/was my boss, and we worked on two shows together (technically three if you count my foray into dramaturgy). We now therefore have that special "been through the wars" kind of ease when we get together. Or maybe that's just Jenn's unique and dynamic personality?
That kind of easy, charismatic, and friendly persona would make sense: Jenn comes from a legendary theatre family (her parents were acclaimed actors, directors, and founders Joan Shepard and Evan Thompson; her brother is director Owen Thompson). Jenn tells me how she and Owen grew up in a brownstone on fourth street between First and Second Avenues. In those days, her parents were running Fanfare Theatre Ensemble, a touring children's theatre company, and, as Jenn tells it, the "downstairs area" was largely devoted to "rehearsals and costumes and the general craft of theatre." "But it was also where we ate," she tells me on the podcast, "so I remember…going downstairs and…sitting on a table or a stool like way off in the corner and watching a rehearsal. And then, invariably they were all friends. So some of the actors would stay over for dinner. My mom would be cooking in the kitchen. They'd come and everyone would sit down at the table. And I remember being maybe like three…or four, and [being] amazed that Cinderella was eating spaghetti with us, and just thinking, 'oh my God, I have the coolest family that they know Cinderella!'"
Nevertheless, Jenn's family never pushed or pressured her into following in their footsteps (though she inevitably did — and to great acclaim!). Instead, she tells me about refusing to go to camp one summer and telling her mom that she wanted a job. In classic actor fashion, Jenn tells me that her mother responded, "I can't even get myself a job! I don't know how I could possibly get you [one]." But they bought Backstage (as one still does if one wants to get a job on Broadway, or a job that's Broadway adjacent!), and they saw an ad that simply read "Little Girl Wanted." And from there, Jenn's fate as a veritable theatre "person" was signed, sealed, and delivered: the role she booked was an adaptation of the Rip Van Winkle story up in Tarrytown, through which she met the great Helen Hayes. She was hooked. Jenn and I agree on the podcast that, were she ever to write a memoir, the title would invariably have to be Little Girl Wanted.
Indeed, the ad led to so much! From the job up in Tarrytown — where Jenn also talks about falling into a "bog" (a memorable experience for a self-described "city kid"!), Jenn booked the original company of Annie on Broadway, where she played Pepper for two years (she's since directed the National Tour, which is about to start its second year of performances!). Jenn talks about what a unique and life-changing experience that was: "it was the Hamilton of its moment," she says on the podcast. "People were cuckoo for that show…I always [say that we], especially being in that original Broadway production, were like astronauts…it's a small group of us, and even if we weren't in the show at the same time, we share that moonshot experience."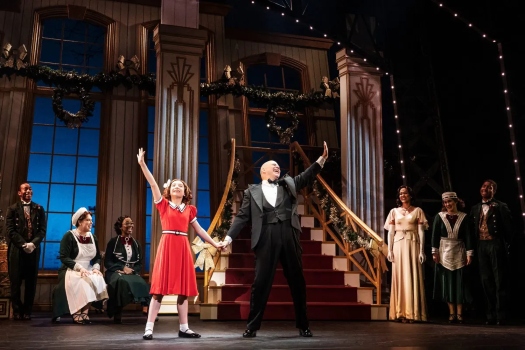 And it was, of course, a different time as well. Jenn talks about getting into some "pretty choice parties and VIP rooms" as a young Annie actress of ten or twelve. "We were at Studio 54 every weekend…hanging out with Diana Ross and Andy Warhol and Donna Summer. Nobody even batted an eyelash…There was a mob-run joint next door to the theater," Jenn continues, "and…our stage doorman would come over the loudspeaker at the end of the show sometimes and say, 'okay, girls, they want you over there.' And we'd just go over there, on a school night, whatever, do a set, get in a cab. They would give us french fries and Shirley Temples and…[people like] Frank Sinatra were there. It was just a really funny, strange kind of access that we had." "And kid [actors] were not, supervised in the same way," she explains. "We didn't have a wrangler; we did eight shows a week." "We were a little feral," Jenn concludes after some thought (perhaps that was a somewhat universal experience for city kids of that generation — whether they were in a hit Broadway show or not — due to the nature of 1970s New York, as Jenn and I discuss on the podcast).
From there, Jenn talks about filming the classic teen movie Little Darlings (along with other notable actors like Cynthia Nixon and Tatum O'Neill), moving to LA to film a TV show, doing The Heiress and Ah, Wilderness! on Broadway, being directed by Gerry Gutierrez and Dan Sullivan, and working with her family on all aspects of theatre-making at the summer stock they came to run, River Rep Theatre Company in the Ivoryton Playhouse. And it was there, Jenn describes, where she made the other big discovery of her life (besides finding that "Little Girl Wanted" ad in Backstage all those years ago).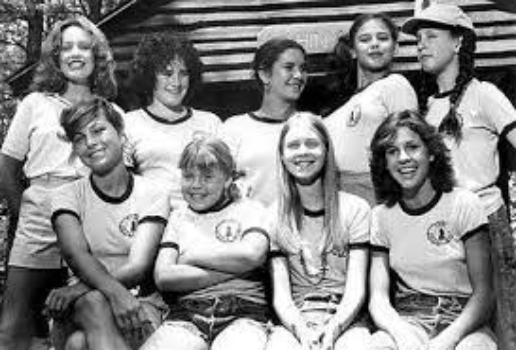 In classic summerstock fashion, Jenn talks about how everyone was doing everything at River Rep: her mom might have been sewing costumes, her dad might have been running the light board and also playing King Lear, her brother might have been running front-of-house, and, yes, it was where Jenn first had the opportunity to direct. Another theme of our podcast discussion, which is especially amazing given how much Jenn values education, is the fact that at all turns she learned by doing. As she describes on the podcast, Jenn never went to conservatory to learn to act: she had decided to perform professionally when she was seven years old, and she was doing it, and making mistakes, and learning, from then on. Similarly, Jenn never went to school for directing or took a course in it. Instead, she describes a process of "moving closer and closer to the tech table" to learn by example and watch the "mysterious magic" that was being made there, and then jumping in rather head first.
While Jenn is now an acclaimed director, who has had shows at theaters like the Mint Theatre Company and the Actors Company Theatre here in New York as well as at Goodspeed Opera House, Denver Center Theatre, Hartford Stage, Pioneer Theatre Company, and been nominated for Drama Desk, Lucille Lortel, and Joe A. Callaway awards, she describes on the podcast how her "transition" from acting into directing was somewhat difficult. "My first kind of stop once I was hanging my shingle out [as a director]," she says on the podcast, "was to go to a lot of the regional theaters I had worked at a lot and had a really good relationship with as an actor to see if they would consider me as a director. And…there were almost no takers. Everybody was like, 'Would you like to be in this?' And I'd be like, 'could I direct it?' [There were] a lot of unanswered emails and silences on the phone."
I ask Jenn on the podcast if she thinks at least some of this transitional difficulty was because she's a woman. While people think of the theatre industry as being super progressive, and in many ways it is, it nevertheless struggles with gender equity — especially when it comes to leadership (directors are, of course, the ultimate production leaders) and pay. She agrees that at least some of her difficulty was sexism — "we have a long way to go, especially in the…commercial sphere" — but that she feels grateful that she came up when she did, as the industry was to some extent opening up to more female directors and leaders, and for the fact that she wasn't ever, as she says, "pigeonholed" by her gender. "I do a lot of female-driven plays," Jenn describes on the podcast, "but I'm also about to do True West…I am lucky because I take what sounds like fun and I do it."
And she's able to have this variable fun and ease with her directing work because of her thorough preparation and attention to detail. We discuss it on the podcast, but I'm not sure if it's really conveyed as forcefully as it should: having worked with Jenn, I can say that there is no director who is more attentive, detail-oriented, and hard-working in service of the piece than Jenn Thompson. She is an English major's dream. She comes to the first day of rehearsal with hundreds of pages of research about the play's characters, themes, terms, time period, and setting printed out for each and every company member. At least two days are devoted to table-work on every production — even on a big-budget musical, perhaps especially so (theatre insiders are likely gasping at this information). And, perhaps most importantly, despite all her success and accolades, Jenn has absolutely no ego. She is willing to get into the weeds with any designer, stagehand, assistant, or PA in order to fix a problem. I have literally crawled on the floor with Jenn, woken up early to search for various costume pieces, and more with Jenn. And I had fun doing it.
As we discuss on the podcast, the audience should not be looking at an actor's robe or shoelaces, but "if the laces are right, and the teacup is right, all that stuff is right, it just elevates it for the actor," Jenn says. "And if you elevate it for the actor, you elevate it for the audience. An actor can tell when they're wearing a piece of costuming that is right. Those are essential things — props, wigs, costumes, set dressing, all of that stuff. They're all in service of the performance because the performance is..the big ticket item. And so we're building that. And the more you can do that, whatever you gotta do to get it done, you gotta crawl on the floor and find a feather boa, get on the floor and go find it. And we will do that together."
I think this speech, in particular, speaks to Jenn's integrity, collaborative and team-player nature, lack of ego, and work ethic as a director. And I would wager that these traits, which undoubtedly make her shows and her companies of actors so great, are rooted in her background as a "theatre kid" who did anything and everything at River Rep and beyond. While working hard to get your Equity card so you don't have to strike a set ever again is an accomplishment indeed, I personally value the do-it-all-together, scrappy nature of old-fashioned theatre-making. There's something about that experience, which I had mostly at Berkshire Theatre Group as an "acting apprentice" but also at College Light Opera Company and other places, which gets to the root of the egalitarian, even radical nature of theatre. Let's remember that theatre wasn't always shiny Broadway LLCs where everyone has a very specific job that is differentiated from everyone else's. No — theatre started as scrappy, guerrilla, group efforts, where people were perhaps sewing you into your costume as you were going onstage. And in my opinion, those circumstance sometimes makes for the most innovative and challenging art.
Which leads to the final "theme" of my episode with Jenn Thompson. It's my belief that you best get that kind of scrappy, "original" theatre experience from regional and local theaters. Broadway is great — but it's never going to teach you how to stitch a costume, how to hang a light, or even how to direct. It's the community theatre in your hometown (even if that "hometown" is NYC), the summerstock you perform in when you're nineteen, the regional theatre at which you get your Equity card, that will teach you the most, and in some cases, produce the most challenging and creative show. While I'm planning a piece on the dire state of the regional theatre at the moment, if there's one key takeaway I'd like you to get from this piece or my podcast with Jenn Thompson, it's to support your local theatre, in whatever way you can. They entertain and educate youth, update and revitalize neighborhoods, remain the closest thing we have to any kind of American National Theatre (more on that later), and, yes, sometimes they produce truly great art or a truly great actor and director like Jenn Thompson.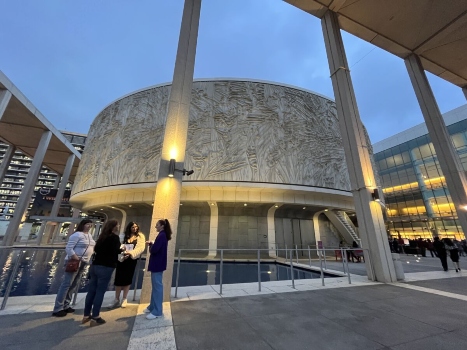 Full episode here; and stay tuned for more. Thanks, as always, for reading.