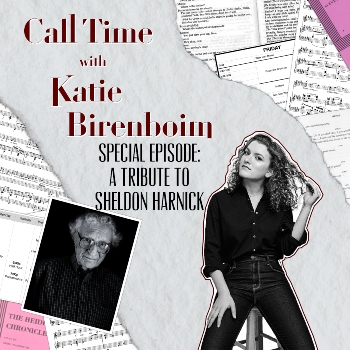 In this week's podcast episode, I experimented with returning to a format I've used on previous iterations of the show in order to honor the late, great Sheldon Harnick. Mr. Harnick passed away on Friday, June 23 at his home on the Upper West Side. He was 99 years old, and over the course of his life he had written opera librettos, books, and the lyrics for over 15 Broadway shows, including the Pulitzer Prize-winning Fiorello!, the classic She Loves Me, and the worldwide sensation — which many consider to be one of, if not THE, greatest musical of all time — Fiddler on the Roof. I had the opportunity to meet — and even work with — Mr. Harnick when I played Marie in the 2016 Off-Broadway revival of Fiorello!, and as I explain on the podcast, I found that not only was Harnick a genius but he was also incredibly kind. Based on the outpouring of love we've seen from the theatre community, it seems like that was true across the board: he was an artist who carried himself with dignity, respect, and empathy, and acted as an artistic mentor, champion, and guide to many.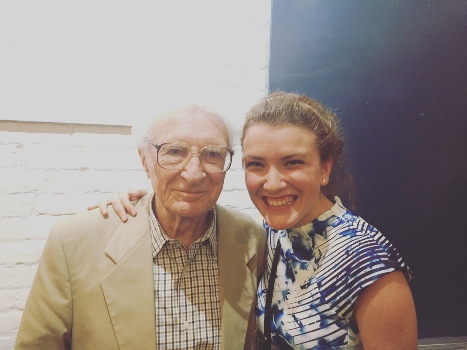 Something else I talk about on the podcast is the timeline of his work in and of itself. Harnick writes Fiorello! in 1959 with his most famous writing partner, Jerry Bock (who passed away in 2010). They win the Pulitzer Prize for Drama — a rarity for musicals. In 1963, they write She Loves Me; in 1964, Fiddler On The Roof; in 1966, The Apple Tree. That means that for seven years straight, Bock and Harnick were churning out some of the greatest music and lyrics ever written for the stage nearly every year.
And those shows, each great in and of itself, couldn't be more different. Fiorello! charts the rise of Mayor Fiorello LaGuardia and skewers the Tammany Hall political machine that ran New York City politics prior to his tenure. She Loves Me was based on the 1937 Hungarian play Parfumerie (which also inspired The Shop Around the Corner, In the Good Old Summertime, and, eventually, You've Got Mail) and followed two coworkers in a Budapest perfume shop who fall in love. Fiddler on the Roof was of course based on the Sholem Aleichem stories, specifically "Tevye and His Daughters," and centered on the marriages of Tevye the milkman's three daughters, which somehow also become a metaphor for the breaking apart of a world and a way of life. And The Apple Tree, which some might not put in the same category as these others but is a personal favorite of mine, is a three-act musical based on three different short stories (Mark Twain's "The Diaries of Adam and Eve," Frank R. Stockton's "The Lady or the Tiger?," and Jules Feiffer's "Passionella"). All are in different worlds and time periods, but connected by themes about love and companionship.
And that's something amazing about Sheldon Harnick's lyrics specifically. As I was thinking about his life and legacy, I decided that the best word I could possibly use to describe his lyrics is "precise." And I mean that in two senses. First, his lyrics are precise in terms of the specific emotion or image they evoke. Take, for example, the lyrics to the titular song from She Loves Me:
My teeth ache from the urge to touch her
I'm speechless, for I mustn't tell her…
I'm tingling, such delicious tingles
I'm trembling, what the hell does that mean?
I'm freezing, that's because it's cold out
And still I'm incandescent
And like some adolescent
I'd like to scrawl on every wall I see
She loves me
Take even just the first line above: "my teeth ache from the urge to touch her." Who would think to put the sensation of your teeth aching with the desire to touch someone? Sheldon Harnick would: you know exactly the feeling he describes — and it's a powerful evocation. Your teeth don't just feel weird or painful…they ACHE. And, what's more, if your teeth ache, imagine how the rest of your body feels! And, therefore, imagine how strong, how potent, this desire must be!
In this case, Harnick represents love as almost symptomatic…like a disease. Georg's teeth ache, he's tingling, he's trembling, he's asking himself, "what the hell does that mean?" An average lyricist might describe the experience of love as "lovely" or, say, "peaches and cream" (or, for that matter, like "Kansas in August"…admittedly one of the other greatest lyrics of all time), but Harnick knew that the experience of this kind of love was frenzied, chaotic, exciting, or even painful.
Harnick often wrote about love. In fact, I argue on the podcast that he's one of the greatest writers of love songs to have contributed to the musical theatre canon. He could write something like the above, which, as discussed, focuses on the beginnings of romance — before any affection has been disclosed. But he could also write a quieter, more mature version, like he did with "When Did I Fall in Love?" for Fiorello!. That song represents a love that is in some ways the polar opposite from the one described in She Loves Me ("where was the blinding flash?" Thea questions. "Where was the crashing chord?").
In some ways, that's what he also did with "Do You Love Me?" in Fiddler on the Roof. Ostensibly, it's a comedic song. But when you really dig into it, it's a song about changing (romantic) mores (indeed, much of the show, as described above, is about change). Tevye and Golde, the product of an arranged marriage, have never ever considered love — or, for that matter, said "I love you" — a fact that seems incredible, even laughable by today's standards. But the song sneaks a romantic theme into what appears to be a funny song about changing times: I think of it as the grown-up, mature version of "If I Loved You." Golde wonders "do I love him? For twenty-five years I've lived with him, fought with him, starved with him…" Yet even before she comes to her own conclusion ("if that's not love what is?"), just as we know that the conditional phrases in "If I Loved You" are a total and complete confession of love from Julie Jordan, we, the audience, also know that Tevye and Golde are totally, madly, and completely in love — perhaps even more so that Georg and Amalia (depending on your own, personal love definition).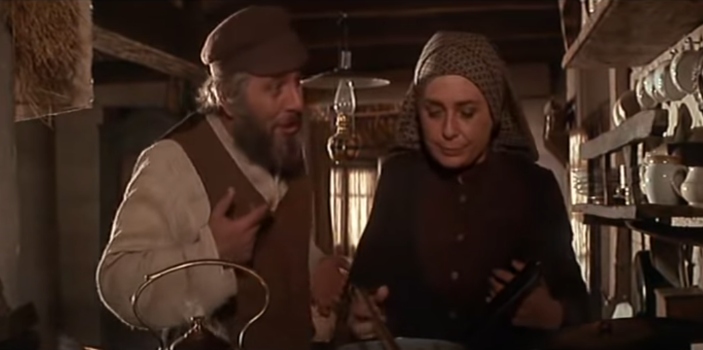 Second, I describe Harnick's lyrics on the podcast as "precise" from a purely technical, grammatical perspective. His lyrics never test the boundaries of the music or strain the bounds of the rhyme scheme. If anything, they are economical — short, sweet, packing all we need to know, even clever, internal rhymes, into short, balanced couplets. Take the above She Loves Me lyrics again, and the rhyme "and still I'm incandescent, and like some adolescent, I'd like to scrawl on every wall I see…" He creates internal rhymes with only three-four words per line, and each rhyming word is so specific — they do the double duty of fulfilling the rhyme scheme AND evoking the most specific feeling and emotion possible. Georg isn't just happy or excited. He's INCANDESCENT. He doesn't just want to write on a wall. He wants to SCRAWL on it.
Take, too, one of Harnick's most famous sets of lyrics. I almost wasn't even going to discuss these, because I feel like everyone talks about them, but then thought to myself — there's probably a good reason. If you're reading this, you likely know the lyrics to which I refer:
Matchmaker, Matchmaker,
Plan me no plans
I'm in no rush
Maybe I've learned
Playing with matches
A girl can get burned
The wordplay of matches and a girl getting "burned" (for the entire song — nay, the entire show — we've been using the word "match" and understanding it in one way, and now Harnick turns the word on its head and uses it in BOTH senses — as a romantic match and as a match that can strike and make fire, which of course then hammers home the theme of the song, as well as the theme of the show) is simply unbeatable. And, once again, it's short, it's sweet, it's evocative, it's economical. It reminds me of an Austenian sentence: powerful, potent, spare. Harnick didn't have to rely only on imagery because he could use metaphor — to brilliant effect.
The last aspect of Harnick's life and work I discuss on the podcast is a sense I have that he was to some extent the last of a very specific generation of Broadway writers. A true product of the American Dream, he was the child of immigrants and put himself through college on the GI Bill. He made a life, a career, and a livelihood solely through his writing, and, to a great extent, mostly through his lyrics — another rarity today.
Finally, I believe attention must always be paid to the game-changer that was Fiddler on the Roof. While I discuss on the podcast the degree to which the show is both specific and universal — it's beloved all around the world for the way it represents family, tradition, and the experience of otherness — as a Jewish American myself, and a person particularly interested in musical theatre and its history, I find the writing of Fiddler on the Roof remarkable for the ways that the writers (including Harnick) dared to focus on themselves and their backgrounds. Jewish Americans of course made up huge swaths of Broadway in its early days: vaudeville and so-called "Borscht Belt" comedy were major influences. But many of these Jewish writers were assimilating through their work. Think about it: Irving Berlin was writing about Annie Oakley. Oscar Hammerstein, as discussed above, was writing "I'm as corny as Kansas in August" and "all the cattle are standing like statues." While many shows were to some extent "Jewish-coded" before Fiddler, I'd argue it was one of, if not the, first musical written by American Jews who dared to turn to their own source material and their own histories, and put them on a Broadway stage. We forget — but that was a radical act at the time, and one that certainly paved the way for other acts of self-expression, inclusivity, or even progressive politics that have appeared on Broadway since then, like Dreamgirls, In the Heights, La Cage Aux Folles, Hamilton, or even A Strange Loop.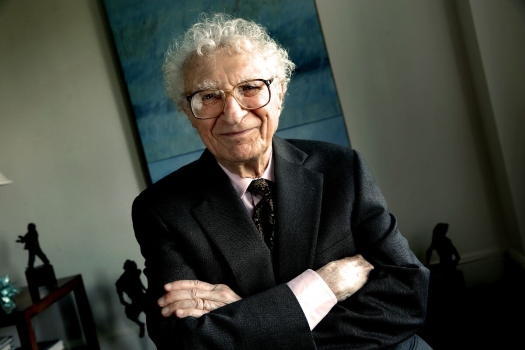 So overall, when I think about Sheldon Harnick, I think of him as a proud Jewish American, a progressive, and even radical, game-changer, a romantic, a comedian, and a genius writer, economical in his phrases, potent in his metaphors, evocative in his words. I hope this article, as well as the podcast, inspires you to go listen to some of Harnick's greatest works on your commute, at home, or even with your loved ones. I know I personally have had songs like "Feelings," "Vanilla Ice Cream," "Little Tin Box," and, yes, "Matchmaker" and "She Loves Me" on repeat.