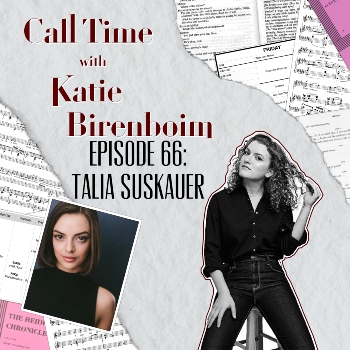 I absolutely loved interviewing my guest this week, the amazing former star of Wicked on Broadway (Elphaba) and current star of Gypsy at Goodspeed Opera House (Louise), Talia Suskauer. I think you'll be able to tell even from the first few minutes of the podcast that Talia and I were fast friends: within minutes we're giggling, revealing the secrets behind one of our inside jokes, confessing to staying up way too late during Gypsy tech rehearsals, and reflecting on our (extremely makeshift) Seder in early April. But don't be fooled by Talia's girl-next-door attitude, candor, and our relaxed dynamic: it is my opinion that Talia is one of the great up-and-coming Broadway stars…our generation's answer to the Carol Burnetts, Bernadette Peterses, and Sutton Fosters of the world.
I use Sutton Foster as an example purposefully. Like me — and probably most musical theatre obsessed women of our generation — Talia grew up practically worshipping at the altar of Sutton Foster. When I scrolled back through Talia's Facebook profile pictures (for…ahem…research), I found one of her proudly smiling with Foster, during her famous run as Reno Sweeney in Anything Goes. I, too, was obsessed at that age…I've watched that Broadway.com "In Rehearsal" video (you know the one) way too many times, and my apartment wifi name has something to do with Foster (don't ask). This was especially true, Talia tells me on the podcast, because she grew up tall (like Sutton) and kind of "gawky." "I had to grow into my features a bit," Talia, who now plays a gorgeous stripper (Louise) eight shows a week, explains. I also make the comparison because of Talia's knock-you-out-of-your-seat voice. The kind of voice that…well…sings "Defying Gravity," both on the National Tour and on Broadway.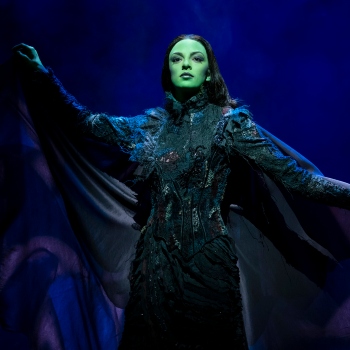 But perhaps even more impressively, as I discuss on the podcast, Talia also has a gorgeous soprano, which she's really able to show off in Gypsy during the quieter number, "Little Lamb" (which, incidentally, was almost cut from the original version). "You're this fabulous belter who can do Elphaba," I tell her on the podcast, "which requires real contemporary singing and riffing and all that jazz. But then you're also a beautiful soprano. You're really able to run the gamut between the two and not a lot of people are able to do that." Talia describes how she initially only wanted to "belt" (if you're unfamiliar with the term "belting" you are truly on the wrong page), but that the voice faculty at her alma mater, Penn State, forced her to "cross train." "I was like, I'm a belter, this is what I do, and it's better," Talia explains on the podcast. "And then I got to college and they were like, 'no, nope, sorry. We cross train here.' And every semester we had to do like arias. Like I was singing in German; I was singing in Italian and French. And I just, I hated it at first because it didn't feel good. And I thank God for my first voice teachers at Penn State," Talia reminds us, "who had the toughest job because [they] had to work me through that…kind of milky soprano that I had at first." Clearly, however, the arias, art songs, and the work of those early voice teachers paid off, because today Talia is the kind of singer who's as likely to play a Lily in Secret Garden as she is to play an Elphaba or a Louise.
But I also compare her to Sutton Foster because of the types of roles to which Talia gravitates. When I was prepping for our interview, I realized that Talia tends to play incredibly strong, independent, often complicated women — what a musical theatre scholar might refer to as a "leading lady" rather than an ingenue type. Especially in today's musical theatre landscape, where every new show seems to require a musicalized version of the Manic Pixie Dreamgirl (see: Dear Evan Hansen, Once, Mean Girls), it's rare to see a young woman in musical theatre who is asked to, let alone able, to play roles with this much depth. "First of all," Talia tells me on the podcast, "I was so fortunate to grow up with so many strong female role models, just like a family of strong women…and so I think that I always gravitated towards [these] strong, leading ladies because that's…what I was surrounded by and what I wanted to be in my own life. And I felt as a young woman growing up…very strong and outspoken," she continues. "I just wanted to be able to be that on stage. And of course, [I] looked at the women in the industry who I felt were strong, like…Sutton Foster…Stephanie J Block…Patti LuPone, and Bernadette Peters…women that were so fiercely themselves on stage."
The discussion is interesting especially when taken with the conversation Talia and I have toward the end of the podcast, when I ask her if she has any advice for aspiring, young musical theatre actors. Instead of giving a version of the "say yes" mentality (which I must admit I use, potentially too much, in my own career), Talia advises aspiring actors to be somewhat "choosy." "It is…vitally important that you don't take auditions that don't align with you as an artist and as a person," Talia advises on the show. "You're building a career…and you have to align yourself with the people you want to be with and the stories you want to be telling." As a type A person, I saw in that speech a version of taking back the agency, and power, that so often actors feel they lack in their careers. It was as if Talia was saying: you can, and do, have the power — you just have to make it for yourself.
Taken together, I would describe Talia as a feminist actor. I know this word is in some camps polarizing today, but I hope Talia doesn't mind me describing her in this way. I have a feeling she won't, especially because I very much identify as a feminist myself. And in a field which can feel anti-feminist in many respects — you're so often playing the dimwitted sidekick to the man, or the doe-eyed, uncomplicated ingenue, and you're playing these roles at the whims of an industry in which women are still underrepresented (especially behind the scenes) and underpaid — a person and a career like Talia's, especially so early in the game (Talia made her Broadway debut at 23), is rare. She plays complicated, independent, strong women, who are more than just accessories to the (often male) lead, and she CHOOSES these roles consciously for herself. I can't wait to see what's in store for her as she gets older and continues to mold, and shape, her musical theatre career.
Because that's the other crucial thing Talia and I discuss on the podcast: knowing yourself. "Doesn't that 'self' change all the time?" you might ask. True, but it's your job, especially as a performer, to retain that strong sense of personal identity — no matter how it grows, changes, and evolves. "Whatever phase of your life that you're in right now," Talia explains, "if you walk into the [casting] room not knowing who you are, the team won't know who you are either…so getting to know yourself as a person is really important." Talia most definitely knows who she is — and I'm so glad that we, as an audience, get a front-row seat.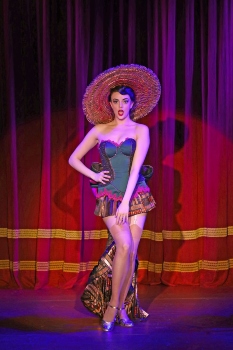 Listen to our whole episode, where we also discuss Netflix's Tall Girl, Wicked fans, audition outfits, line flubs, and East Haddam Connecticut's "nightlife." As always, please let me know in the comments if you like what you hear.