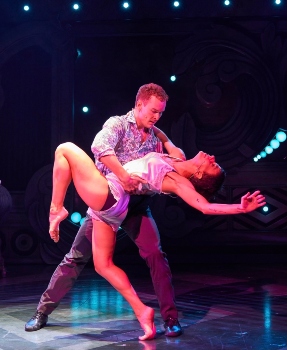 This week on the podcast I had the pleasure of interviewing not one, but TWO incredible dancers at the same time — a first for this iteration of Call Time. It helped that the aforementioned dancers are also recent co-stars and real-life best friends: Ryan Steele, whom you may have seen in Broadway's Newsies (where he was also the original dance captain), West Side Story, Matilda, or Carousel, and Gaby Diaz, whom you might have seen WINNING season 12 of So You Think You Can Dance, on season 13 or 14 of that show as an "all star," or in Steven Spielberg's West Side Story. They recently starred in the Andy Blankenbuehler/Kate Nash/MCC dance musical Only Gold.
The NY Times review of the show — which praised and excoriated in equal parts — focused particularly positive attention on both Steele and Diaz. Green called their dancing, especially when partnering as a couple, "thrilling."
This chemistry — onstage and off, as friends — was palpable even over the Zoom screen. It represented a remarkable opportunity to investigate: what makes two very different performers, with very different dance backgrounds, remarkable in their own rights, who play different characters with different wants, needs, and objectives, so "thrilling" to watch together? Gaby acknowledged that, in the case of her and Ryan, this seamlessness was of course partially rooted in their ability to "get along pretty effortlessly. That makes it a lot easier when you like the person that you're hanging out with all the time," she said, referring to the monster rehearsal schedule involved in mounting a new musical — let alone a new "dance" musical — like Only Gold.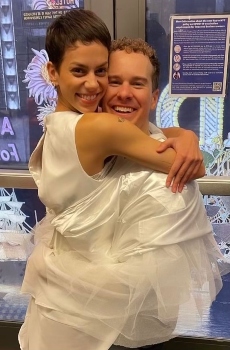 But, when reflecting on some of the first movement sessions for the show — before they were dancing their individual parts even, just working on the movement vocabulary of the world with choreographer and director Andy Blankenbuehler — Ryan reflected that it was also something else. "It wasn't even our material," Ryan explains on the pod. "We were just dancing next to each other and we had similar aesthetic and quality and I was like, 'oh, I really like dancing with you.'" Gaby remembers a similar feeling: "even just dancing side by side in Andy's basement studio that day," she says on the podcast, "Although we weren't…physically partnering, I probably was watching [Ryan] through my peripheral vision the entire time." "One eye on each other and one eye on the room," she concluded. When discussing that similar "aesthetic" that they recognized in one another immediately, Ryan described it as "trusting, weight-bearing, and fluid."
It was also a perfect opportunity to discuss another factor in a "thrilling" stage experience. We've described Ryan and Gaby's offstage chemistry — they were "fast friends," their onstage chemistry/similar dance "aesthetic" — "trusting, weight-bearing, and fluid;" we know that both Ryan and Gaby are highly trained and experienced. But we also discuss on the show that fourth element that makes a dancer so "thrilling" to watch — especially two dancers, partnering. It can be so difficult to describe or talk about because we don't even really have a phrase for it; like Madonna or Cher, we use a single word: we just say "it." Does the performer have "it," what I think could also be described as stage presence or poise?
On the podcast, Ryan refers to "it" as "passion." "I think 'it' is in the eye of the beholder," he says on the show, "I definitely think that there is a certain watchability that you can possess, but I think that comes from passion…If you enjoy dancing, people will enjoy watching you dance." Interestingly, both Gaby and Ryan said on the show that, in a roundabout way, the pandemic brought that magical "it", or "passion," to the fore for them in a really concentrated way. "It gave me a lot of perspective," Ryan said, "I mean, in a million different ways, but it taught me that this career that I've built…of course, I missed the paychecks [when Broadway shutdown], but I didn't miss…the 'career' aspect of it. I missed the connection being in the room, dancing in a space bigger than a studio apartment. The relationship with an audience." "I've made decisions more recently having to do with passion and not a paycheck," Ryan concluded, "and that just feels so much better." "It made everyone, I think, I hope, reevaluate their 'why,'" Gaby explained. "Like why do you do this? And [I] had to…reestablish my whole relationship with dance because I was like, 'oh my God, I can't, I don't just dance when someone gives me a job to dance.'"
And if you go based on Ryan and Gaby's logic, reestablishing your "whole relationship with dance" and returning to your initial love for it IS that passion, that "it" factor, and it shows in the dancing. It's I think one of the things that made Ryan and Gaby — and the whole company of Only Gold — so "thrilling" to watch, and so thrilling to talk to, even through a Zoom screen.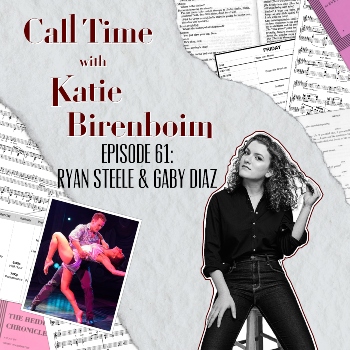 Listen to our whole episode here, where we also discuss wearing jean shorts for your first dance class ever, So You Think You Can Dance and reality competition TV, so-called "pirouette"-offs, 35-minute lift calls, dance class culture, vocal cracks on the microphone, and the revival of Movin' Out they want to do (I will be directing of course; producers — please reach out). It was a lovely opportunity to interview two performers at once, and therefore explore the unique ways that people interact, and move, together as a unit onstage, rather than just individuals. Sometimes, two is better than one.