For my first episode of 2023, I decided to interview my classmate at NYU, Bella Wang, with whom I've been wanting to chat since our program began last fall. Because of her professional experience working for a PR consulting group, with clients beyond the arts industry like Avenues The World School and luxury fashion conglomerate LVMH, Bella always had really interesting — and, in my opinion, correct — takes on our marketing case studies and discussions. She also brought a fresh perspective. Originally from Beijing, China, Bella attended Bennington College here in the states — where she was the only Chinese student in her class of roughly 800, before graduating early and being forced to move back to China because of the pandemic and border closings (listen to our whole episode for THAT story…it's a doozy) and now attending NYU. In the interim, she's worked at the Vineyard Theatre, Manhattan Theatre Club, and, as of the spring, American Ballet Theatre.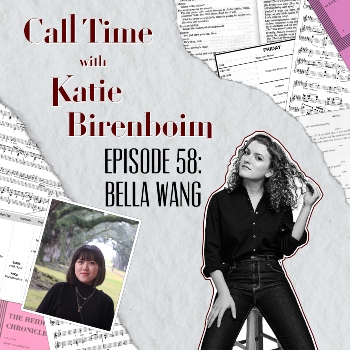 Because of this fresh, and multi-faceted, perspective, Bella and I were able to have a wide-ranging conversation about such topics as Chinese tea culture, Photoshop skills, and the best restaurants in New York. But one of the most interesting subjects of our conversation, tied to her experience as a Chinese-born, creative, is the market for the performing arts, specifically musical theatre, in China.
In many ways, it makes sense that musical theatre would fit in with Chinese culture given the nation's long history of lyric poetry, Yuan Dynasty dramas, and regional-based operas. In our interview, Bella reflects on her first musical theatre experience, performing as Yente in Fiddler on the Roof in high school. "Such a classic," Bella recalls, "but I didn't really get why were doing that…Chinese kids…Chinese school…doing Fiddler on the Roof." It reminded me of Fiddler bookwriter Joseph Stein's story about attending a Tokyo production, shortly after the show opened. A Japanese audience member asked him if American audiences "understood" Fiddler, because the show, he insisted, "is so Japanese."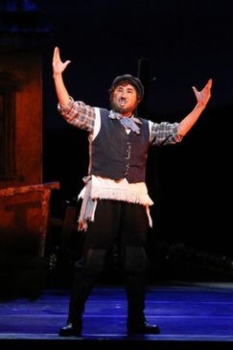 It's a story that has stuck in my mind, especially because of my own connection to Fiddler: a reminder that great musical theatre, or great art in general, has the ability to cross oceans and language barriers. Tokyo audiences, as well as Chinese kids in Beijing, can understand Fiddler on the Roof, a story about Jews in "the Pale," because they also understand its fundamental themes: family, persecution, love, the push-pull of maintaining cultural tradition vs. assimilation, the dream of a better life. It's a story I return to because it reminds me why we do what we do — or, rather, why I do what I do. Musical theatre can speak to anyone, in any language. Oh, and it has good tunes and laughs, too.
And, indeed, China has imported and translated many of these "classic" musicals, like Fiddler on the Roof, since the 1980s. Les Miserables had a really successful Chinese run in 2002, and, since then, The Phantom of the Opera, Cats, and Mamma Mia have dominated the market, what China Stage Connection has called "the big three."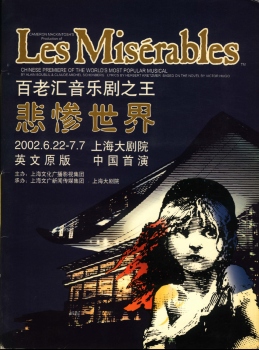 When it comes to original, Chinese language musicals, however, Bella tells me that the market is like the wild, wild west of early Hollywood. "It reminds me of that movie Babylon," Bella remarked on the podcast (the film chronicles the transition from silent to "talkie" pictures in 1920s Hollywood). She meant that observation in several ways: first, in the sense that the musical theatre market in China, especially that for original, Chinese language musicals, is so young that there's very little structure. "Nonprofit arts is not a thing in China," Bella told me. "Period." There's the history of "national theater companies in China," Bella said, "and these smaller commercial theaters, but nothing in between." Zhang Zhilin, an original musical producer and founder of Shanghai C-Musicals Cultural Communications, told The Global Times, "Chinese musicals do not yet have a mature and standardized investment process, like Broadway's financial support for musicals and other live performances."
Second, as Bella tells it, "there's a talent gap" when it comes to Chinese original musicals. Indeed, "sharpening musical talent is the No.1 priority," Zhilin also told The Global Times. "More mature and professional talent is needed not only for actors, but also for scriptwriters, directors and musical writers. As the Chinese musical industry started late and many workers in the industry have switched from other fields such as dramas…they lack a solid foundation and training before entering the industry," he said.
Third and finally, Bella argues that the musical theatre market in China right now has the wild elements of early Hollywood because of the importance it places on "idol culture." Others have written about this phenomenon in China: Wu Changchang argued in a 2021 article for The Theatre Times that the 2018 musical theatre reality competition Super Vocal "played an outsize role in shaping Chinese audiences' understanding of what musical theater is." While Changchang goes on to say that the show gave the Chinese musical theatre industry "a needed shot in the arm," he argues that the model has forced local producers to "cobble…together low-budget remakes of Korean musicals with male-heavy or all-male casts" rather than "invest the time and money it takes to develop a world-class show."
Bella also pointed to the success of this reality show in discussing the Chinese musical theatre market: "the industry was completely surrounded by fandom," she said. She tells a particularly hilarious story on the podcast about going to see a Chinese production of Rent where she spent most of the show critiquing the lead, only to discover that the girl next to her was one of his biggest fans, producing a huge sign with his face on it at the curtain call. "I don't know what it's like now," Bella concludes, "but it's not a sustainable model."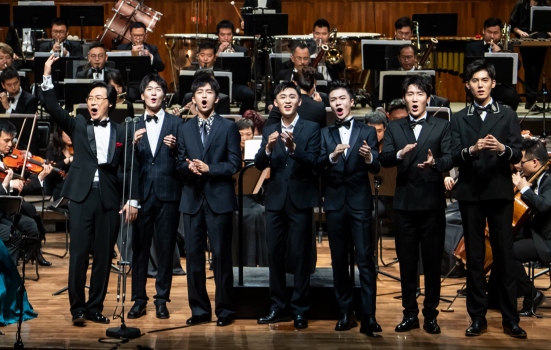 It's a missed opportunity, Changchang argues, because with the onset of the global pandemic, international theatre companies and productions have largely been unable to tour in China. Indeed, "in the absence of imported musical dramas due to the pandemic," Zhilin argued, "domestic musicals have grown up, bringing a certain number of original works into the musical market and increasing its confidence." In 2021 in Shanghai, 524,000 tickets to Chinese musicals were sold, "an increase of 129 percent year on year."
While Bella isn't sure whether her career will take her back to China or not, it's clear that there's a window of opportunity for Chinese musical theatre producers, directors, actors, and artists at the moment. There's a market and an audience, but they need appropriate investment, structure, talent, and perhaps, as Bella and I discuss, some good translators.
There's a reason, too, why people have written about this phenomenon and why I had Bella on the show. The American musical theatre market could learn a lot from what's going on in China, even when it comes to something as specific as marketing. China Stage Connection recalls that at the start of the recent Beijing tour of Chicago, "an online theatrical influencer created a Chinese music video adapting the song, Cell Block Tango." The video "went viral instantly and generated over 50 million views" and, Luke Ma, President of SMG Live and the presenter of the Chicago China tour, said that "daily ticket sales in Beijing grew tenfold the day after the video's release."
As Bella and I discuss on the show, American theatre producers have been slow to embrace streaming, and other elements of online culture, as they sell and market their shows. And while there's a great deal more to write, research, and discuss about the Chinese musical theatre market, it's clear from my discussion with Bella that it might be worthwhile for American movers and shakers to look at what is working in a young market (China) as they discuss "reinventing" and "re-envisioning" the (mature) American market post-pandemic (a subject we seem to hear about ad nauseum).
For more on this, Chinese Fiddler on the Roof, arts marketing, developing your skills, and networking, listen to my whole episode with Bella.