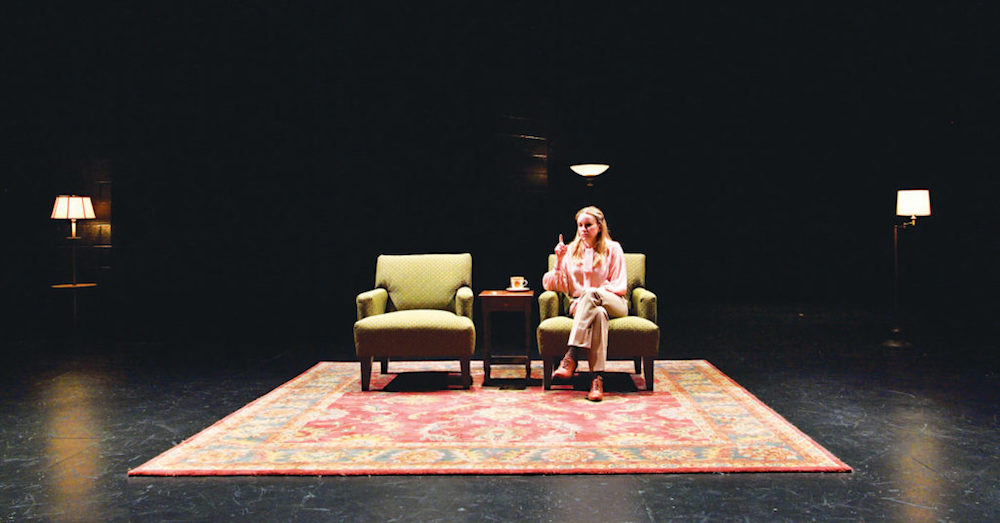 Emily Cass McDonnell knows The Thin Place works because of magic.
She stars as Hilda in the Playwrights Horizons debut of Lucas Hnath's play which opens this week, but she's been with the production since the first readings.
Last spring, The Thin Place had its premiere at the 43rd Humana Festival of New Plays at Actors Theater in Louisville.
That's when McDonnell talked with me about the play. We focused on what makes it a thing that can only happen live and in 'this room'.
An important part of the experience happens near the beginning of the play when Hilda engages an audience member. But not in any usual way.
McDonnell says the interaction consciously reminds everyone in the audience that we are sharing space—the audience and the actors—in real time. We are all in this room together and it's happening right now.

The way Hilda talks with this audience member—they interact more than once—is experienced as a real conversation. Hilda doesn't acknowledge that she's an actor nor that this is a play in the conversation. It first happens before the lights go down. The conversation is clearly not scripted. It can't be. McDonnell says this "keeps it in a 'thin place' in this room".
There's some special magic that happens in this play. Real magic. McDonnell explains that the actors worked with a magician to get the audience exchange just right. Part of the magic is that the conversation is different every time.
Of course, a lot of what makes live performances special is that every single one is unique and anything can happen in a performance.
Anne-Sophie Mutter stops performing and speaks to an audience member who is illegally filming in the front row.
Loud fireworks interrupt a play and Stephen Samuels makes them part of the plot by ad-libbing to his 'date' that he's really excited to be with her, see?
Actors plead with a newly elected official in the audience.
But what happens in The Thin Place is different because it's in every show by design, yet meant to feel like it isn't. And because it happens between an actor and an audience member it changes in every performance depending on who is in the room. Also, it's very much a part of the story.
The exchange at end of the play left the audience stunned in the performances I saw. So taken by the magic, people talk to strangers in an attempt to understand exactly what happened. Or more so, how it happened.
"The fun thing is, it's magic," says McDonnell.
This is a show that can only happen when people are sharing space and really understand the importance of sharing that space and experience.
The Humana Festival's website declares: "The Future of American Theater is here." The Thin Place definitely feels like that.