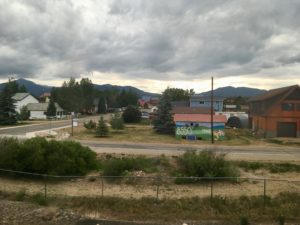 In July, I went to Iowa via Aspen and took two train rides to make it work.
Wednesday: Denver to Glenwood Springs
9 AM
The train is about two hours late getting into Denver. The couple standing behind me in the platform line is from Canada. They are with friends who live in the area and the two couples are headed up to Glenwood Springs to enjoy the waters. The woman from Canada bonds with me when I laugh at her sarcastic remark about their early arrival for a train that isn't in yet.
She tells me she is 68 and shows me the dragonfly tattoo she got when she turned 60 after surviving cancer. "Dragonflies have two chances at life you know—they start out as water flies." She's an artist and makes dragonflies out of old silver spoons and glass from old car windows. Her retired husband built a studio for her and helps by breaking up the glass to get the plastic out of the middle.
10 AM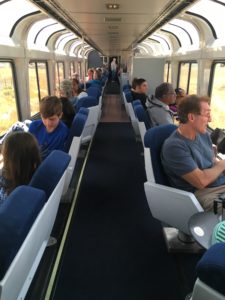 The conductor welcomes us, letting us know he got on in Denver too. He admonishes us not to save seats in the observation car and not to "park there all day." As if.
I get the last seat in the observation car before we leave Denver. A young girl moves her big box of colored pens off the seat for me. "She's an artist." the man with her tells me. He turns out to be her uncle. She wants to play Go Fish. Her uncle is willing, but she can't find a third family member to join. Eventually she returns with a new friend, a teenage boy willing to be reminded how to play. He wins. And leaves us.
11 AM
Young girl has a new card partner and they are playing WAR, it's not as nice to sit next to as Go Fish. He says, "You always seem to win." She says, "I'm a lucky person."
The conductor tells us there will be 27 tunnels coming up. We pass through the first one as we begin to wind our way across the beginning of the mountains.
12 PM
Young girl is named Sydney. And she's drawing some very appealing characters. I ask whether I can take a picture of the llama and she agrees. Then quietly asks her father if that's OK. He says, "Sure. It's a memory of the real thing." And then he tells me how talented she is and about the still life contest she won recently.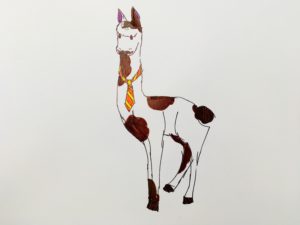 I ask her if the llama art has a name and she shrugs: "It's a llama with a hat, a mustache and a tie. I think he's an inspector."
A little later she offers me a penguin with pink pearls and a hot pink bow.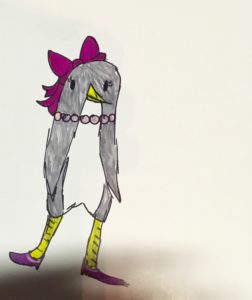 We stop in Fraser and the conductor alerts us to that "little entrepreneur" who comes to the platform every day to sell water and snacks. I head down for a stretch and fresh air and I see that the young man has carried the supplies on an attachment to his bike. The conductor gives him a high five before saying, "All aboard!
1 PM
This conductor has something to say about every stop. In Granby, he asks whether we remember the news story about the local businessman who got upset about a change in the law that had a negative impact on his business, so he built an armored car and drove it through a number of buildings in Granby.
"One butt, one seat," we're reminded. Some people are frustrated by the saving of seats that is going on during lunch.
OH: "That's why I went to the goddess gathering—to learn new things."
2 PM
Shirley from Australia sits with me for a bit. She's going all the way from Chicago to San Francisco on the Zephyr. She's been to her grandson's wedding in Florida and visited with family in Stratford, Canada before getting on the train. At the wedding, she gave a speech about some family history and she was pleased because several people told her how much they enjoyed her storytelling.
"Ten years ago, I wouldn't have opened my mouth." I asked what had changed. "I got older, a lot older."
3 PM
Dragonfly artist and her friends help me with my bags and wave goodbye when Dad picks me up at the station.
Sunday: Glenwood Springs to Osceola, Iowa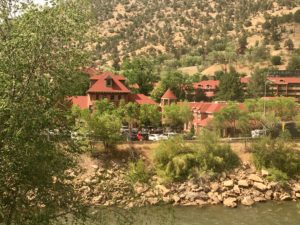 12 PM
Craig is the sleeper attendant. He calls me 'pretty lady', helps me with my bags, and signs me up for lunch. Once he's brought my bag to Room 9, I head for the observation car. The couple sitting next to me there is traveling with their granddaughter. She's ten and she's made a new friend on the train, they tell me. Later she joins them for the lunch they brought on the train—pizza for her and a cinnamon role to share for them. They tell me she's enjoying the freedom of the train where she is allowed to wander around on her own.
1 PM
One of the last to be seated for lunch, I'm with Ronnie and RH from Denver who also got on in Glenwood. They are celebrating a birthday and trying out a sleeper, even though they are only going to and from Denver. They love it and want to do more train riding. We work our way slowly toward a conversation about politics and it's like breathing deeply and exhaling when we realize we view the world the same way. They ask a lot of questions about framing science and communications research. I give them my card so they can look at some of the research findings we post on the Topos website.
2 PM
After lunch, we're sent back to our sleeper rooms so the dining room attendant can wander around taking dinner reservations room-by-room. On my way back, wandering through the narrow halls trying to keep my balance, I hear a banjo and then pass a guy sitting in his sleeper with the door open—the musician. I would like to tip him.
3 PM
Back in the observation car, it's emptier than I've ever seen it for this stunning trip through the canyon between Denver and Glenwood.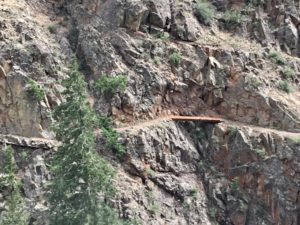 The conductor tells a lot about Gore Canyon. He points out the trail that people hike through the canyon and the new bridge that eliminates the need to hang off the side of the rock to continue. He notes that from this point on, the river is too rapidy (is that a word? he asks us) for anything but kayaks.
He points out "Colorado's version of dead man's curve" on the other side of the river from the train and tells us about the people in the cars that went over the cliff. There's a station wagon that two teenage girls took without permission. "They survived going over the cliff—not sure if they survived when they got home." We can see the 1960s era station wagon in the rocks on the side of the mountain.
A little bit later: "By the way folks, you got your cell phone service back." A kid in the observation car yells, "YAY!"
There's a four-month-old baby, Emaline, in the observation car and we are all captivated. She's a smiler in a butterfly-themed onesie.
We pass a llama farm.
4 PM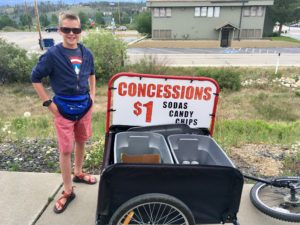 In Winter Park (Fraser) we have a mini-break, so I get off for a walk and see the young entrepreneur again! This time I get his photo and name: Trek.
Walking back through the train to my seat, I pass my lunch partners who tell me "We have 100 questions for you!"
As we enter the Moffat Tunnel, the conductor tells us it's the 4th longest tunnel in North America. Three ten-year-olds are sitting together—they didn't know each other before they got on the train. In the dark of the tunnel, they are storytelling. I hear something about grandparents and how hard it is to wake up in the morning. A smaller kid is walking around the car holding a pair of (fake?) handcuffs. Emaline is asleep in her father's lap.
5 PM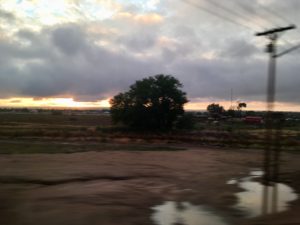 When we exit the tunnel, it's darker and raining. The ten year old boy interrupts his story to sing: "It's raining it's pouring we just traveled through time." His story is about a friend of his named Destiny: "You know that feeling you get when you know someone likes you? It was really embarrassing."
Now the ten-year-old boy is talking about girls he dated and he says one of them got too obsessed. WHAT? The two ten-year-old girls can't stop laughing. By the way, his t-shirt features a "Rifle Wrestling" insignia. Um. What is that?
Grandma of one of the ten-year-olds comes by to check on them and says under her breath to me: "Young Teens!"— and rolls her eyes.
6 PM
The 'young teens' are gone and three boys of various sizes, they look like brothers, replace them in the middle of the car. They are singing and hitting each other at the same time. I'm enjoying this, until an Amish woman walks by and the tallest boy says, "Hey Amish, can I fish?" It's chilling the way he says it and swivels his head at her as she passes. She looks different to him and he's othering her.
7 PM
Dinner is with Peter from Wales. He's traveling from San Francisco, where he went specifically to make up for having missed seeing the Coit Tower on a trip 25 year ago. We talk about the WPA artists who painted the interior with images of laborers and marvel over the idea of government hiring artists to make art. He's on his way through Chicago to New York City where he wants to see the 9/11 Memorial and then onto Wales by boat. He's hoping to get off the train in Denver to find a gift for his ten-year-old (!) granddaughter.
8 PM
It's surprising how quickly the attendants turn things around in Denver. I barely make it into Union Station for a moment by leaving dinner early. As I dash through the rain into the station, Emaline's father nods goodbye and Ronnie and RH wave from the platform where they are catching a local train.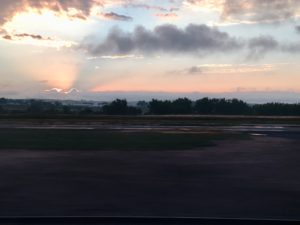 Watching post-rain sunset in the flats of Colorado, I try, but it's not really possible to capture this in a photo.
9 PM
Following a mother and daughter through the train to the sleeping cars, I run into Craig, the attendant, who helps me find Peter so I can give him the Colorado t-shirt I found for his granddaughter when I ran into the Denver station. Craig says he will make sure I get off in Iowa early tomorrow.
Back in the Observation Car (nothing to see now except occasional lights in the distance), there's a raucous card party going on. Everyone else is pretty quiet, reading and watching screens.
The three young boys (brothers?) creep up on me and whisper, HI! I turn around and they run away laughing.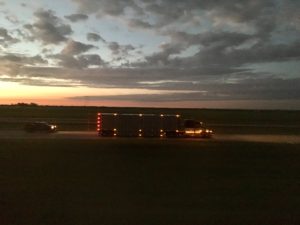 10 PM
Card party is going strong, maybe stronger, with lots of woo-hooing and occasional singing. One guy wanders in and out of the car, making multiple calls in which people listen to him complain about various things. Just before 11 it starts to rain hard – we can hear it, but can only see it when there is lightening. Not really sure where we are, there are no announcements after 10.
11 PM
Craig made up my bed and it is perfect.
7 AM
Morning in Iowa.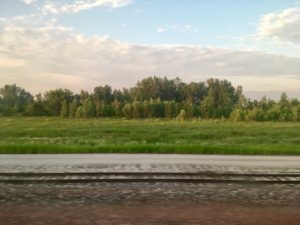 8 AM
Breakfast with Lily and a couple from Phoenix. All three are on the train to Chicago where they go on to the Northeast: Buffalo and Montreal. Lily was a teacher on military bases and is going to a reunion of overseas teachers. I ask her a lot of questions because it sounds like a good idea to go somewhere else for an adventure.
9 AM
Craig helps me off the train. He's a little worried that I didn't make plans for getting to Des Moines, but I am confident it will work out. There is a beautiful little historic station in Osceola and an attendant tells me I can catch the bus to Des Moines at the Pilot, the truck stop, but I have to call a cab to get there.
The cab driver arrives and when I ask about the station she says it was renovated lately at great expense, but that it was almost demolished. She also tells me that Walmart has devastated their historic downtown. The hardware store where she worked was sold and she started driving a cab with her husband.
10 AM
There's delicious coffee and Wi-Fi at the Pilot. The bus will arrive soon. The Subway attached to the Pilot is opening and the first customer asks for 'the clicker' and switches the television to MSNBC! Another customer glances at the television and says to the first: "I like Trump but I think he's not really equipped to go up against Putin by himself, that's gonna be a mistake."
The future is not known to us at that time, of course.