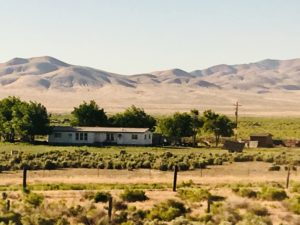 On June 12, I boarded the train for a 34-hour ride to Denver, on my way to the annual convention of Americans for the Arts. My assignment to myself was to write something about every hour I was awake. It turns out there's a lot of art and culture to see on long train rides.
Tuesday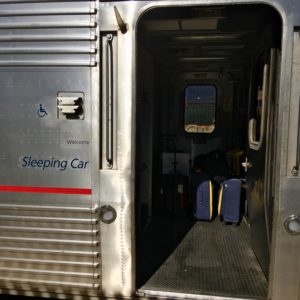 9 AM
Seriously, I'm so excited to be getting on the train to Denver in CA. My Lyft driver starts thinking about train rides he could take with his wife as I tell him about my trip. Cindy (she's going all the way to DC!) and I talk in the station and agree that the ride across California, Nevada, Utah, and Colorado is a meditation.
Stephan is our sleeping car attendant and my tiny roomette is perfectly cozy. We're moving now and the train whistle is music and before the first hour is out we've made two stops and crossed the Bay waters.
10 AM
Moved up to the observation car and marveling at California style where the interstate median is bursting with flowers. I mean, if you have to be driving….
In Sacramento, the Amish men and women in hats and caps join us. Their clothes are an art form, so simple.
11 AM
California State Railroad Museum volunteers join us in Sacramento! Immediately, they begin sharing the history of the train and the things we can see through the windows of the observation car.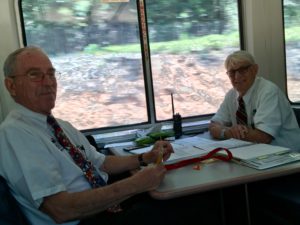 They tell us that we are beginning to move up into the Sierra Nevada Mountains. That is, the docents are kind of laughing as they tell us we're at the point where the survey completed "for the purpose of persuading President Lincoln that public money should be available to build this railroad" said the mountains started. Apparently the money started to flow for the mountain areas, more mountain area meant more public money for trains. (Slick!) We all agree it seems pretty flat at this point.
The docents have a ton of fun. It's best to go sit with them in the lounge car so you can hear all the things they say off-mike.
12 PM
There's an extended family sitting next to me in the Observation Car: matriarch and (I guess) two sons and two grandkids (so far) — they are traveling all the way to Chicago. There are a lot of train loving parents and grandparents introducing younger people to TRAIN LOVE.
Learning that gold was discovered near Auburn (where we are now) in 1848. My Tiny Row House in Cincinnati was already built then. These dates marking events we've all heard about and which seem SO long ago always shock me into realizing that my house is really, really old.
We're at that point on our ride up into the mountains where there are tunnels and we're reminded by the Train Museum docents that Chinese people built these rails.
Granddaughter next to me is singing while she uses her iPad. We're mostly out of range of the Internet now but people are still using devices.
In Colfax, CA, the station is on Railroad Street and cars are stopped on historic US 40 behind the RR crossing. One driver is waving at us. There are painted bike lanes on the big hill here.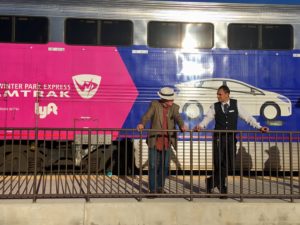 1 PM
The thing about riding the train as a single, you meet a lot of people. Tables in the dining car are set for four and the attendants fill them up, connecting people who might never meet otherwise. My first lunch with three people who are meeting for the first time reminds me that train people enjoy talking with strangers.
One was a recent grad from Yale, taking three weeks to travel all over the country by train, stopping along the way. Another, a grandfather heading to visit his own 97-year old father, for Father's Day, chose his lunch carefully because he's a recent vegan. And finally, a Reno Mom on her way back from Sacramento shared postcards from the gallery where her daughter just had her first art show.
2 PM
Post-lunch, talking with a couple from central Kentucky: "One of our neighbors has a plaque in the front yard that says it is the exact center of the state. Not sure how they measure that." They're on the return trip to Chicago where they started out with friends who joined them from Texas. They went across the northern US to Portland and then south to the Bay area so they could see Highway 1, the Golden Gate Bridge, and Muir Woods. ("It's like being in a Cathedral.") So far, they think the Zephyr is the prettiest part of the train trip.
3 PM
The view from the observation car offers some graffiti art. I want to know more about the artists who cover the side of the old water flumes and rocks.
In this hour, we make our dinner reservations (5 or 5:30, 7 or 7:30) and arrive in Reno where a number of people are getting off. The announcement: "Folks, prepare yourselves physically, mentally, and spiritually to leave the train."
4 PM
Our stop in Reno offers a (non-scenic) chance for a walk on the platform. Our docents leave the train (sad) and the lounge director announces he's switching up the special drink from his world famous Bloody Mary to the Grand Junction Dysfunction, Jack and Pepsi. (Yes, Amtrak is a Pepsi venue.)
5 PM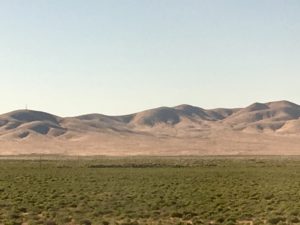 Outside of Reno, the landscape is like sand art, pushed into place by the hands of aliens.
We're stopping in Lovelock to get some instructions about track problems that mean we have to slow down in a few spots. My Amtrak flier about this route says THEY GROW BANANAS in Lovelock. There are banana farms in Nevada?!?
I was wondering about the name of this place, so I look it up. Wikipedia says: "It is the namesake of a nearby medium-security men's prison and a Cold War-era gunnery range." Not what I was expecting, having been to Paris where there are lots of lovelocks.
6 PM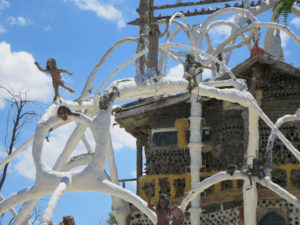 The conductor made a point of telling us to look at Thunder Mountain Monument, the art of Creek Methodist Minister, WWII vet, and private investigator, Frank Van Zant. It's five acres of immense sculptural art from found objects just on the other side of I-80 from the train tracks. It's would be easy to miss seeing this from the train, so I'm impressed the conductor took the time to make one of his rare announcements about this outsider art.
7 PM
At Winnemuca, the other conductor tells us the name of the place means "one moccasin" which signifies a traditional wedding gift, because you can't run away with just one.
There's some offloading here, so we get a chance to stretch and walk. The sun is setting soon, but it's still super sunny and hot. On the way out of town, we see solar parks by the side of the tracks—what look like former parking lots, full of solar panels.
Ate my dinner with a couple from North Carolina celebrating their 59th wedding anniversary today. I definitely had dinner envy, the meat and fish came out looking much better than I expected, and more appealing than my 'special' pasta.
8 PM
Back in the observation car, the setting sun is behind the hills and all we can see are the outlines of hills and occasional lights, and our own reflections in the windows. Also, there's a middle-aged guy who's been flirting with a European college student for hours. WHAT IS UP WITH THAT? And can I hang out long enough to see what happens?
9 PM
We arrive early at the Elko, Nevada stop, so there's time for some fresh air on the platform, but it's getting dark and this is the least pretty (that's generous) of the stations so far. There isn't really a station so much as a dusty parking area, a chain link fence, and a gate. As I exit the train, a conductor is confiscating a new passenger's beer, gone until he gets off in Salt Lake in the middle of the night.
We're at the Elko stop long enough that I almost manage to close my move circle on the Apple watch by walking back and forth on the platform. Five people comment on my 'exercise'.
When we leave Elko, it's quiet on the train. Most people have headed out of the observation car and lounge, back to coach or a sleeper room, including middle-aged guy and twenty-year-old. (I heard him ask her if she was 21.) Now, I might not ever know what happened.
I realize suddenly I forgot to get help with turning the seats of my roomette into a bed and finding the linens. Stephan the sleeper car attendant is already in his sleeping clothes but gamely helps me out. (Big tip for him tomorrow.)
I ask the lounge car attendant guy what time it gets light out in the morning. He looks closely at me and tells me the best way to find out is to check the Internets.
10 PM
Settled in my cozy (very) roomette—Wondering how two people share this space for realz—Listening to the train whistle—It's totally black out there. It took me 10 minutes to figure out how to turn off my overhead light and I probably woke up everyone on this level with my fumbling.
Wednesday
1 AM
Something wakes me and I'm startled by the gazillion bright stars in my sky view from the roomette bed.
Almost 4 AM
Salt Lake City stop. I fall right back to sleep. Can't see the mountains in the dark.
7 AM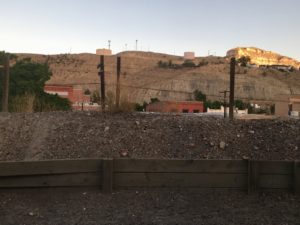 A band of sun on the hills and historic buildings. Stretch and get up. Use the small bath to brush and clean. No train shower for me since I'll be in a hotel room in Denver tonight. Back to the observation car before breakfast. Grandfather on his way to see his own Dad is in the car chatting up a new friend. He's the friendliest person on the train. No sign of middle-aged-guy or twenty-year old European girl.
Breakfast with a Mom and her adult son on their third (at least) train trip together. She didn't sleep well last night, or on her other trips. We agreed that you learn a lot about how to train travel each time you do it. Last time I learned to budget for the roomette and I did sleep better this way. Next time, I'll ask for a roomette upstairs for the better view.
8 AM
In the observation car, the view is changing – steep red rocks curve alongside the train tracks on the left side, the river appears on the right.
Woman with dog is having a tough conversation with one of the conductors about whether the dog is allowed in the seat. He says the dog must be on the floor per the ADA. She is skeptical.
9 AM
We've left Utah for Colorado.
People I met yesterday are asking how I slept and noting that I am still here.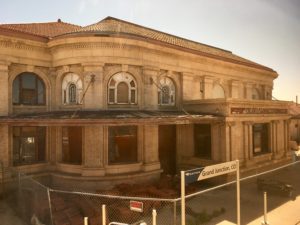 10 AM
Stopped in Grand Junction for a break. There's an old station that is fenced and locked and we're all wondering what the story is since it's historic and looks beautiful. We can see some stained glass when we peer through one of the doors.
Back in the observation car, reports vary: the station will be demolished, it's going to be a restaurant, someone bought it but hasn't done anything with it in three years. I remember seeing it in more or less the same condition last summer.
The next hour and half will take us to Glenwood Springs where I wish I could get off for a swim and a soak in the hot springs pools. Up, into and over the mountains will be stunning. I have a good seat.
11 AM
Meditation.
12 PM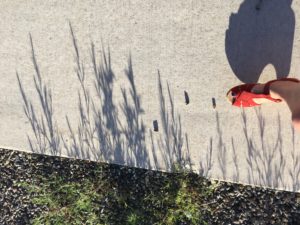 Glenwood Springs stop and I am feeling the pull to go back later this summer. Someone calls me the 'exercise lady' on the platform and another asks me about my shoes, "Those are the CUTEST!" giving me a chance to pimp Sven Clogs like I love to do. (You can design your own! #ShoeArt.)
We're in the canyon now. The river appears on the left side of the observation car and the rafters wave at us and we wave at them. No mooning though…yet.
The conductor tells us to check out Interstate 70 on the other side of the river with its crazy engineering and two tiers built into the side of the canyon rock.
1 PM
There's some jostling for seats in the observation car. Behind me, one woman is reading a book. WHY?
We see bald eagles, herons, ducks, people fishing and rafting, horses, deer, a paddle wheel, and no graffiti art.
2 PM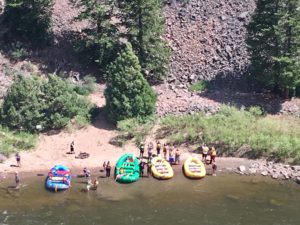 A newlywed who is familiar with the rapids entertains us in the observation car by telling us tales of the rapids, his recent bachelor party, and honeymoon activities. The river is low because of a lack of recent rain and not much snow last winter, so the rocks are showing and it's harder to kayak through. Grandparents sitting with us are traveling with their grandson on his 10th birthday trip. The ten year old's favorite thing so far: the food.
There's some speculation about possible changes to the Amtrak dining and sleeping cars because of Congress—everyone hates this idea and we talk about contacting our representatives.
3 PM
We pass through multiple canyons alternating with farmland. When the green grass appears, one of the riders starts singing John Denver's words about the green, green grass of home.
Just noticing, the tiny dog on the train is wearing a pink tutu.
4 PM
Finally. The political talk has started. Three solo travelers (a cyclist on his way to Denver where he will start biking to Chicago, the dog owner, and a Eugene Oregon train-lover/amateur-photographer) next to me are complaining about 45. I got up to stretch and they got worried: "Are you a Trump supporter?"
In Fraser, we pass a tiny house completely covered with artwork (the legal, planned kind) and a man waiting at the railroad crossing with his skateboard—he waves at us.
The cyclist asks me some questions, so I ask some back. It turns out he is not a cyclist. On Memorial Day he decided to do a ride to address veteran suicide. It's not an organized thing and he's doing it alone. He just bought his bike ten days ago. Wow.
We're going slowly over a new bridge in Winter Park. We're the first train to go over it. So all the engineers are here in their orange vests to watch. Um. Yes, a little nervous.
5 PM
I guess we made it over the bridge.
Early dinner call for all of us leaving the train at Denver. We enter the Moffat tunnel, experiencing 16 minutes of darkness, and on the other side the water flows the other way, East now instead of West. Because…intercontinental divide.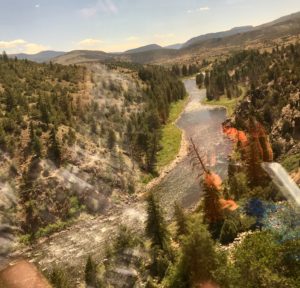 6 PM
The views heading down the mountain are extraordinary. I return to the observation car to see it all just before there is an urgent call for a conductor in one of the cars. It seems unusual. Then another conductor heads into a closet coming out with a first aid kit—he rushes away. We all agree it doesn't sound good.
Then the train stops. Just above a small town, in the middle of a crossroad. Law enforcement appears. And a little later there are two passengers in the road with the cops.
There are several stories about what's happened. A passenger went wild when another passenger touched a female/put his head on her shoulder/fell asleep on her shoulder. Passenger one tackled passenger two and held him in a seat.
Unfortunately, the passenger who allegedly touched another passenger was an older man, who looked like he'd been sleeping rough, kept all of his belongings with him. The tackling passenger is a young, white guy.
One witness claims the "homeless-looking guy" was given a ticket by San Francisco officials to get out of town. Others say that's not true and he wasn't causing any problems. Who knows what happened? Meanwhile the train is stopped, blocking traffic and something is happening outside—the older man's bags are removed.
In the observation lounge, I talk with the almost-cyclist and the dog-owner. We agree that people make assumptions about people who look like the older man and that we're worried about what will happen to him. It makes us all sad and we are sharing more openly in our conversation as we wait. The train starts up slowly to finish the ride into Denver—without the older guy.
7 PM
Stephan helps me get my bags together and gives me tips for getting a roomette upstairs next time. Cyclist guy finds me on the platform to ask for my card. Twenty-year old European girl is alone on the platform. Denver is warm and breezy.