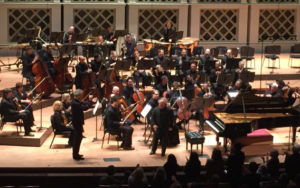 This weekend, the conductor and pianist Jeffrey Kahane played with the Cincinnati Symphony Orchestra—a spectacular jazzy Ravel's La Valse, with an achingly lovely middle movement.
But it was his encore that was unforgettable. He bowed his head before starting, waited a moment, we anticipated.
It took several notes to recognize with his slow start. Ah, America the Beautiful.
This music was emotional for us almost from the beginning. Then the tune went surprisingly dark, dark, dark in the middle. But back to soaring optimism at the end.
Kahane stopped playing. Waiting, waiting, waiting with his fingers hovering over the keys as we held our breath and our applause until he dropped his hands after a long reflection. 
We, nearly everyone, leapt to our feet, applauded. Many of us wiped away tears.
It was an arrangement I'd never heard. And no one I asked knew it. So, I went to Twitter for the answer.
It was his own.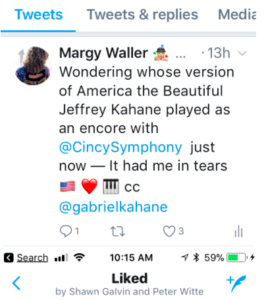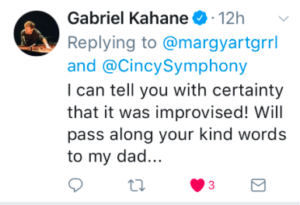 I suppose it could have been heard many ways. Our local critic, Janelle Gelfand, heard it as "a memorial to the victims of the horrible events that had unfolded two days earlier in a Florida high school".
To me it seemed to be a larger lament, for our America in these times. His return to the traditional tune after the minor notes felt optimistic. Twitter presented me with another night when Kahane improvised on America.
LISTEN.
Last night it seemed the minor section was darker, longer.
But, I heard the same message. We will resist. We will return.
Thank you, Jeffrey Kahane—for a moment of stunning artistic protest.