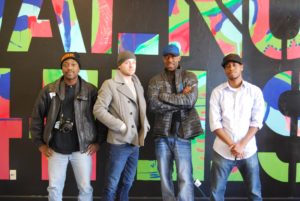 Neighborhoods across the nation are facing questions about changes that lead to displacement or feelings of division. In Cincinnati, Walnut Hills' residents are talking about new housing, new restaurants, and plans for renovation of historic buildings. This is exciting—yet it leaves some people with feeling wary about rising rents and the loss of neighborhood culture.
The neighborhood development corporation, Walnut Hills Redevelopment Foundation, is leading the way on physical and economic changes to the area. The developer's leadership, including Aprina Johnson, a local artist on the staff, recognized the importance of learning from residents about social impacts too. They developed a plan for an innovative initiative: paying artists to be researchers.
The foundation recruited four artists to design creative projects that would enable them to learn from residents about issues of equity, segregation, and displacement.
Inspiration and funding for this work comes from LISC. LISC leadership offered funding for this artist researchers, saying:
"The goal of the project is to explore ways in which artists in a variety of disciplines can contribute new understandings of communities and community change, which can be helpful to neighborhood leaders and residents as they strive to improve their communities. We believe that artists can generate knowledge in ways that traditional social science methods or journalistic techniques cannot. Arts-based research can be a particularly effective way to uncover aspects of the deep structure of community – the relationships among people that shape the culture, social relationships, and economic prospects of places. It can also help identify otherwise unknowable effects of our efforts to promote community change."
The Foundation identified four artists to explore resident experience. Sculptor Herschel Johnson, videographer Alan Haley, photographer Michael Ellison and mural artist Benjamin Thomas created work in the area that offered a chance to interact with residents.
The results were revealing, as Johnson told a reporter, "The kids were saying they'd like to see more people around them that look different than them, and that was powerful because when you go to a school that's predominantly black or Caucasian and nobody asks you that question, you just don't think about it."
In mid-summer, after months of creating art while talking with neighborhood people, the four artists shared their work at a walking tour of Walnut Hills.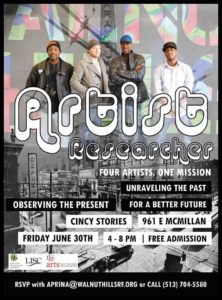 The public was invited to take part in the art walk, starting at Cincy Stories, a creative placemaking partner of the Foundation. There, artist Alan Haley shared his video interviews of Walnut Hills residents.
At Green Man Park—a resident designed and co-created park—photographer Michael Ellison installed his photos for viewing and participants were invited to share ideas for the neighborhood with art partner Cincinnati Museum Center's interactive installation.
At the neighborhood library, sculptor Herschel Johnson shared his creation for a local school and shared stories he heard from residents while he was making the art.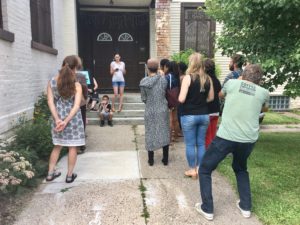 Then everyone traveled to The Monastery Studio where the action opened with powerful spoken word by Lisa Marie, and then Benjamin Thomas shared his experience planning a mural with residents.
For the dinner break on the walk, the Foundation staff encouraged everyone to try a neighborhood spot for food. People who hadn't been to the neighborhood in awhile marveled at the number of options—another signpost of the changes happening there.
The last stop of the evening was back at The Monastery where the artists engaged in an inspiring conversation about their personal experiences with discrimination and segregation, and how it shaped their work.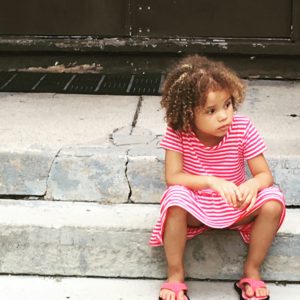 Benjamin Thomes explained, "I thought it was important to do this because I know it's a neighborhood that's going through a transition. I'm always concerned about how that will affect the people who live there. I was glad to find out that the people who are leading the change want the residents who've been here a long time to stay."
At the same time, perceptions about the future were different. The artists uncovered residents' fear of displacement and discrimination in investment. Michael Ellison explained that this is a fair concern of residents based in experience. He noted, "My house that I grew up in was torn down by the interstate, along with many other friends and families."
When artists engage the community through their work, we learn things we might not know at all otherwise. Creating and supporting our culture with artist researchers is an idea worth pursuing further.
ABOUT WALNUT HILLS' CREATIVE PLACEMAKING PROGRAM
Walnut Hills Redevelopment Foundation is creating opportunities for residents to come together to make social, physical, and economic changes in their neighborhood with art. This program is supported by LISC—Greater Cincinnati and Northern Kentucky with funding from the Kresge Foundation.
This post originally published by LISC—Greater Cincinnati and Northen Kentucky.