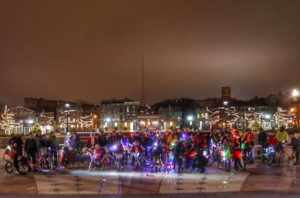 Waaaaaay back in 2011, as communications and research VP of a newly re-launched arts funding organization old enough to be an antique, I devised (with friends and colleagues) a bike ride that we named The BRIGHT Ride. The idea was to bring people together with a free, fun, flat, slow ride that would create a surprising, moving spectacle of shiny, sparkling people on bikes.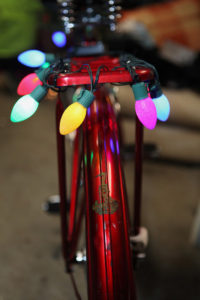 We provided glow sticks and some extra lights. A local coffee shop brought hot chocolate —on a bike. We found videographers (they rode a bicycle built for two) and a photographer. And off we went.
It was glorious. So wonderful that people wanted to do it again. And again. Since 2011, we've organized two rides a year, one in the summer and one each December.
This ride (by design) perfectly illustrates what our research had uncovered as the way to talk about the role of arts in communities, assuming we want to build broad public support for the arts:
A thriving arts sector creates ripple effects of benefits throughout our community, even for those who don't think of themselves as goers.
These are broad-based benefits that people already believe are real—and that they value:
A vibrant, thriving place: Neighborhoods are livelier, communities are strengthened, tourists and residents are attracted to the area, etc. Note that this goes well beyond the usual dollars-and-cents economic argument and is about creating and sustaining an environment that is memorable and a place where people want to live, visit, and work.

A more connected population: Diverse groups share common experiences, hear new perspectives, understand each other better, etc.
Obviously, this ride connects people. All kinds of people come and we promise not to leave anyone behind. And it literally adds color and energy to the streets. At the same time, the ride meets multiple community goals.
For people who like to ride in groups (these are very friendly people indeed), it's another chance for social connection, to see old friends, and make new ones.
It encourages more people to ride bikes by giving them a chance to ride comfortably with a group first. Fear of riding with alongside motorized vehicles keeps many would-be bike riders in cars.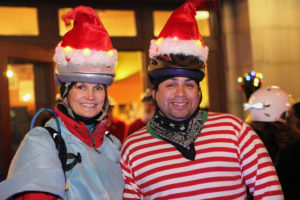 The riders show everyone we pass that riding in the street is legal and that people can ride bikes in all sorts of clothing—not just spandex and padded shorts. In December, we usually have more than one rider in a Santa suit and occasional elves. In summer, people are wearing shorts and sandals.
We get a chance to be creative, making a piece of ephemeral, moving art together.
We're creating a happier place for ourselves and the people who see us riding. We're creating memories for residents and visitors alike. The ride is fun, so much fun. People often shout from the sidewalk or a car to ask why we're riding. We say: "For fun!"
The BRIGHT Ride is the sort of thing I'll be writing about here. I'll offer commentary on the way we talk about art (with an eye toward building public understanding of the arts as a public good) and the way arts and artists can create happy places, places that we all want to be. Stay tuned.
A few words about how I got here
Most of my post-formal-education life, I focused on economic justice policy and research. Starting out as a legal aid lawyer in Ohio, my practice included representing individuals against bad-actor landlords, victims of domestic violence, and homeless people with civil rights claims. While individual casework was a major part of the mission of the non-profit law firms, my passion was for litigation and policy advocacy to effect system change. Eventually, that preference led me to a job at United Way as a policy advocate, where my portfolio included work on affordable housing and benefits for people between jobs.
The United Way sent me to DC when my friend and colleague, Eric Fingerhut, was elected to Congress and DC was in the midst of a national debate over welfare reform. Eric asked me to serve as a fellow in his office. In the process of advising him on a welfare bill he introduced, I met most of the national experts on this issue. And that eventually led to a job at the Progressive Policy Institute working on social and urban policy related to welfare reform implementation. Over the next decade, I was fortunate to do research at three think tanks and to serve as an advisor to President Clinton in his Domestic Policy Council.
During those years, I began to focus on the importance of using strategic communications to inform the sharing of new knowledge and data. Many national foundations invested in research to assess the implementation and impact of the welfare reform legislation of the 1990s. We had the data to inform policy recommendations to improve the law. But the research and data did not move the policy agenda in DC. In fact, the Bush administration successfully re-litigated the debate over personal responsibility that had led to the welfare reform legislation that Bill Clinton signed. It was as though the policy had never changed because the deeply held beliefs of the public about poverty hadn't changed, despite the new law.
Frustrated that our research was not shaping media coverage, policy results, let alone public opinion, I refocused on communications research (the subject my undergrad studies). Eventually, with my funders' encouragement (thank you, friends!), I left Brookings to lead a small group in research on low-wage labor market and related transportation policy.
Are you wondering: what about the arts???
When I thought about grad school, I almost went for a degree in arts admin, but went to law school instead. My father talked me out of a career in the arts. (BTW, he denies this.) My parents both made their careers as accomplished symphony musicians. Dad was in the Navy Band and Mom played in the National Symphony before they got jobs in the Cincinnati Symphony. I grew up listening to the gossip about the Cincinnati Symphony over the dinner table and hearing a lot of classical music. My sisters and I all took music lessons, and ballet classes, attended theater school, and so on. We had lots of exposure to the arts. I am a talented and appreciative 'goer'.
Before leaving Brookings, I had investigated the options for moving into arts administration. It seemed hard to do at that point in my career unless I was willing to be an intern again. Not.
So when my funders let me take the money and open my own shop, it seemed a good way to support my interest in systemic change through a communications lens.
Two years later, when I was dining with a friend visiting from Ohio, the president of the nation's first United Arts Fund, Mary McCullough-Hudson, I learned of the organization's plans to shift its focus from primarily fundraising for the arts sector, to building public will for the arts. It took me a month or so to figure out that this might be the job I wanted. It was in the arts but could focus on research and communications.
It wasn't in my life-plan, but I went home to Ohio and worked with the Fine Arts Fund on its transition to a new kind of organization, called ArtsWave. We commissioned communications research from Topos Partnership. The framing science methodology revealed barriers to broad support for the arts and a research-based lens for communicating what people love about our arts. This led to a mission change for the organization, and eventually new goals for grants to community organizations. We made a total shift from serving the arts organizations to serving the community through the arts. (ArtsWave sponsored the first Bright Ride as a way to illustrate that organizational change and we did it with the research as a guide.)
Now, I work with Topos on communications research on economic policy, mostly for national foundations and think tanks. And I get to work with national organizations on the intersection of arts and community. In my hometown, artist friends helped me start a small passion project called Art on the Streets, which supports artists and organizations that want to perform and create with the community in public places. Lucky. ?