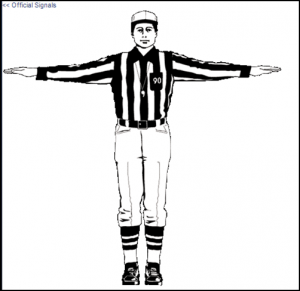 I'm calling a flag on the play.
This is the NFL signal for Unsportsmanlike Conduct.
Normally, I'd be among the first to say, "if you don't have anything nice to say, don't say anything at all."
I've spent the last 18 years as a champion of Arizona's offerings of theatre, music, dance, art, festivals, culinary, science/technology and cultural attractions.  I continue to be a vigorous organizer of collaborative audience development efforts among arts & cultural organizations and around the country.
Politics and in-fighting don't advance the cause of arts and cultural participation.
But, as potentially uncomfortable as this is, I am not going to sit idly by while the leader of one company proposes actions that reek of arrogance and hypocrisy – even when that organization is one of the largest performing arts groups in my hometown.
Here's the situation:
On December 27 the Arizona Republic published an insightful year-end reflection column by arts writer Kerry Lengel that begins, "The story of the year in the arts, unfortunately, is the same as it was in 2011: the continuing toll from the Great Recession."  The article notes the closure of several Phoenix-area non-profit organizations during the past year,  including Alliance for Audience/ShowUp.com, the service organization dedicated to collaborative audience development that I founded and led since 2003.
READ THE ARIZONA REPUBLIC ARTICLE HERE.
—
I call shenanigans on the comments of Mr. Jim Ward, CEO of The Phoenix Symphony.
Three points deserve blunt rebuttal:
First, Mr. Ward argues that as a matter of policy, public subsidies should be focused exclusively on a select few "marquee organizations."
As I wrote in my New Year's Day post, "The value of arts & culture derives not from the success of any single genre, organization or venue – but from the nurturing of a multi-layered ECOSYSTEM that offers many people many different ways to achieve personally-meaningful connections."
What Mr. Ward proposes is precisely the opposite.  His call is to "double down" on a select few organizations whose chief merit is size, rather than any ambition to build a sector that is stronger, broader and more inclusive than the one we have today.  This is not just the WRONG DIRECTION for public policy.  It is an incredibly DANGEROUS DIRECTION as well.
Frankly, there is also reason to be suspicious of his ultimate goal.
As a self-professed "Tea Party Republican" and former candidate for Congress, Mr. Ward must surely recognize (if not agree with) the agenda that would eliminate ALL public funding for arts & culture under the banner to "reduce the size and scope of government."
While public funding levels in Arizona have never been particularly abundant, those amounts have been, nonetheless, reduced substantially in recent years.  That the sector has been able to preserve anything must be credited to the efforts of MANY arts and cultural organizations (and their government affairs advocates) and countless efforts to educate and mobilize audiences and stakeholders so that city and state-level public officials hear the message that their diverse constituents VALUE what public support of arts & cultural does for them.
A policy that reduces public funding to just The Phoenix Symphony and perhaps a few other "marquee" institutions (a designation of vague and questionable merit, by the way) not only appears hypocritical and self-serving – but it reinforces antiquated and counter-productive stereotypes of arts & cultural elitism.
In response to my posting of the original article on Facebook, a friend posted this insightful additional point with which I also agree: "What, Matt, you don't believe in trickle-down arts funding?  Yes, "too big to fail" is a hypocritical notion, for sure. If anything, the arts will be reborn from the bottom up. I look to small organizations to reinvigorate the arts scene and to make people want the arts again."
Second, Mr. Ward decries the number of non-profits that are "vying for the teat of the funders."
I'd observe that the choice of metaphor reveals a somewhat disrespectful attitude to funders and peers alike, but it's the meaning of his comments to which I object most strenuously.
While undeniably true that the number of non-profits has increased along with competition among them for limited charitable resources, a businessman like Mr. Ward should appreciate that the realm of charitable support is a marketplace in its own right.  Competition for limited funding drives applicants to innovate and affords funders the ability to make purposeful decisions over time about where and how their support should be invested.
The growth of the non-profit sector about which Mr. Ward complains is actually a celebration-worthy demonstration that beyond the capacity of the free market system there exist the substantial efforts of strong and caring people who are willing to dedicate themselves to important causes.
Undoubtedly, there are severe strains to the system and we would all welcome greater efforts to increase levels of philanthropy.  But at the end of the day, it's healthy to consider the decisions of those funders as a form of economic truth serum.  Sometimes, the judgement of the jury is harsh.
If the Phoenix Symphony – or any other organization – is feeling "crowded out" of funding opportunities, then that's a pretty clear sign that it is time to re-assess the fundamentals of its own relevance to its audiences, stakeholders and community.
Third, Mr. Ward isn't just advocating for the viability of his organization.  He's asking for that public and/or charitable support AT THE DIRECT EXPENSE OF OTHER ARTS & CULTURAL ORGANIZATIONS.
Hey, I understand that the CEO of a non-profit is expected to work vigorously and creatively to help the organization survive and thrive.  But the people who lead the largest organizations in town (as well as their Boards of Directors) also carry a leadership responsibility for the whole of the arts & cultural sector.
To turn on smaller organizations – and, in particular, to undermine the community spirit that unites the cause of arts & cultural engagement – is to become a self-serving bully in an abusive relationship.
With friends like these, who needs enemies?
What Mr. Ward is advocating leads to only one of two ends – and they are both highly undesirable:
At best, his Darwin-esqe "survival of the largest" philosophy saves a few large institutions but offers no connection to a long-term objective of nurturing a vibrant arts and cultural sector where a multitude of audiences feel deep connection to a diverse group of organizations of many different sizes, missions and backgrounds.
At worst, his "my organization's survival at any cost" strategy throws much of the rest of the arts & cultural community under the bus and most likely leads to the final solution that destroys the wide base of support for public funding of arts and culture once and for all.
Clearly, this is a matter of high-stakes with serious long-term implications.
The leaders of large arts & cultural organizations have a responsibility to LEAD the sector's advancement on this critically issue and not to start a self-destructive civil war.
And the leaders of ALL arts & cultural organizations have a responsibility to UNITE in pursuit of objectives that are beyond the capacity of any to achieve individually.
That effort begins by eliminating the word "marquee" from our vocabulary and by focusing on what really matters:  relevance, meaning and community impact.
QUICK ADDITION:  I am delighted to note this just-published letter to the editor from the Executive Director of Arizona Citizens for the Arts, Arizona's statewide arts advocacy association.
# # #