Mike Kelly's Mobile Homestead opened to the public this month in Detroit.  His video shot from the window of the Mobile Homestead starts touring around the world.  Self-taught or folk artist homes are regional tourist attractions, but actual single-family houses have a limited history of artistic intervention by the finer arts.
Why – primarily because it feels so much like an improper invasion of the someone else's neighborhood.  Of course it always is even if artists in urban zones think they are reviving the community.  But the urban zones have less semi-private control of the streets and the authorities are not responsive to illegal uses of buildings.
So Kelly avoided this dilemma after the current owners refused to sell him his childhood home in the middle class Detroit suburb of Westland.  He created a replica and attached it to a one story, concrete box  and former auto dealership – now the Museum of Contemporary Art Detroit (MoCAD).   The front facade and front rooms can be unhitched and moved by tractor trailer around the city for use by others, when it will look like 50% of a double-wide mobile home.  The basement at MoCAD will be used for artist residencies, perhaps re-enacting Kelly's youth.   The main floor will remain sparse without any historic furnishings or colors – ie: remain a series of small white boxes.
A couple years ago when Kelly was alive, he had Mobile Homestead pulled from MoCad in downtown Detroit to Westland and then back – making very standard photos of the house facade against a variety of backgrounds like the General Motor's headquarters.  Live photoshop.  He also pointed a video camera out the window to record the streetscape along the journey.  The resulting video is now playing at MoCAD, the Tate and other venues.  The 2 minutes online at Artangel (one of the project organizers) shows the typical American story of modest commerical structures that are built on street where you can drive a 16 wheeler.
The project to me is disappointing compared to transformations of other single-family homes.  His stated objective of the video to record "white flight" makes trival a complex story and inappropriately focuses on race – AGAIN.  A mobile home in commercial Detroit has almost no psychological impact compared to the real mobile homes that were moved into the south Bronx in the 1980s.  Kelly seem to ignore the emotional connection without providing another connection or even curiosity.
Others have moved houses like Mary Ellen Carroll's "prototype180" in Houston and Kyong Park's european tour of "24620: The Fugitive House" from Detroit.   Carroll rotated the house and property uses.  Back-front. Front-back. So what.   Park brought the tactile fact of our abandoned working class wooden houses to Europeans.  But 24620 sat as a displaced artifact.  I don't think that pure fact introduces anything.  Artists have an obligation to tell us something.  Carroll, Park and Kelly projects speak better to the "home" artist audiences in New York, London, etc than the spaces or neighborhoods that the work inhabits.
Working class wooden houses can be great fun as sculpture as first seen in Buster Keaton's One Week (1920) where Keaton mis-assembles the pre-fab building parts like a cubist sculpture.   But in the static arts, Gordon Matta Clark's Splitting (1974) has become iconic.  A very simple act of cutting that clearly transforms the New Jersey house into a weighted sculptural object and speaks to the emptiness within.  Matta Clark's friend, Dan Graham makes proposals in 1978 and the subject is dropped in New York.
Across the USA, others take up the small working class house – but most organically in Houston and Detroit.  With a volunteer Houston homeowner, Mel Ziegler's painted everything inside and out red in Red House, 1979. With Kate Ericson, he makes other Houston inventions such as unplanted trees in the front yard.  After a conversation with Ziegler & Ericson, I organized Homes for Art with Cris Bruch where 5 artists were matched with 5 volunteer homeowners to transform the facade or landscape in both 1987 & '88 in Seattle.  At Spoleto in 1991, Mary Jane Jacob creates opportunities for Ziegler & Ericson to paint a house with historical approved colors but in a camouflage pattern and David Hammons builds the very narrow and small "House of the Future".
Generally, these projects take place where the political structure of the city does not care.  Poor, working class neighborhoods in decline.  Frequently, African-American.  In the mid-1980s, Detroit resident Tyree Guyton starts the Heidelberg project, transforming houses in his neighborhood.  In 1993, Rick Lowe is able to purchase a block of 22 abandoned shotgun houses in the historically Black third ward of Houston.  Project Row Houses is now on its 38th set of artistic inventions in the houses and has expanded its mission with substantial service to the local third ward residents. (Lowe also lives in the neighborhood.)
In this new century, most independent interventions around the world are related to gardening, biking, urban systems, community dialogue and mural / graffiti painting.  Detroit remains a city where working class houses remains an artform with Power House Productions as the center of activity for artists.  The anonymous group DDD painted houses orange that were scheduled for city demolition.  Katie Newell's "Weatherizing" in 2010 with its glass tubes of light was recognized by the Architectural League of NY in 2011.  Gregory Holm and Matthew Radune's Ice House stood ice covered in February 2011.
Others exist (please send me images) including Theaster Gate's studio in Chicago, Dean Rusk and Dan Havel exploding houses in Houston and George Sánchez-Calderón's sacred burning of a large-scale model of a Levittown house on the anniversary of his father's death.
From Romania, Dan Coma continues his decade of work of urging architects worldwide to use the narrative potential of the house. He has sponsored competition after competition for houses for great artists and others. In his introduction to icarch.us, he writes:
We are interested mainly in "houses." but we use the word "house" in the most generic, almost archetypal way. At bottom, in architecture everything is a "house." A school is "the house of learning," a bank is "the house of money," a church is "the house of god," a library is "the house of books," etc… It is this very primal meaning that interests us, be it "real," or  metaphorical.

To end: we can only say, together with Jean-Luc Godard, in his film "Notre Musique," (Our Music) that even a more or less banal castle like Elsinore, in Denmark, could become a very special one, once we learn that it was Hamlet who lived there…!

This is because, all of a sudden, the "house" becomes illuminated by a significant biography, that is, by an "earned life," that is, by a LIVED LIFE!
End of Original Post.
Response by Ries Niemi……………………………………..
Do Ho Suh's Fallen Star at the University of California San Diego.   Video of installation at YouTube.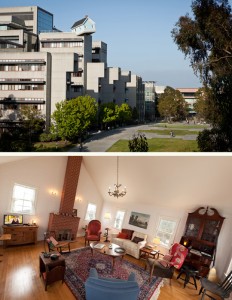 ……………………………………………
From DAVID:  Very interesting post on something of an emergent trend.  British sculptor Rachel Whiteread also comes to mind for her cast of a house in London's East End.
……………………………………………
From Charlie Rathborn:  MadArt is doing some interesting interventions in Seattle. http://www.madartseattle.com/mad-homes/exhibition