In May 2008, two Mobile Art projects were displayed in Tokyo, Japan and Madison, Wisconsin, USA.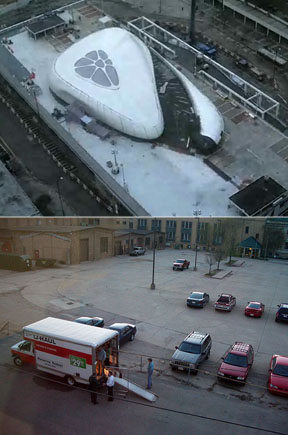 The blog is composed of stolen images from Chanel Art Mobile website and the Curved Collective Flickr site and text from Art Daily press release and an email from Jennifer Anne in Wisconsin.  The Chanel Art Mobile will be in Central Park between October 20 and November 9, 2008.  Perhaps, the Curved Collective will join them in New York. 
My comparison is completely respectful of both projects.  They both responded to their economic abilities.  Curved spent $29.95 for the U-haul truck and volunteers set-up the mobile gallery at three locations on one day.  Chanel has not revealed the cost of Zaha Hahid's pavilion for the 50-year anniversary of the Coco Chanel's design of the 2.55 handbag.    
Comparing the public art events did spark a kind of checklist for public art project promotion.
Reinforce the brand

 

(Know what your brand is.)
Produce a real event

 

(What is wrong with celebrities?)

Secure great photography, not good documentation.

Partner with others that might benefit – but be in control yourself.

Plan all events a long way in advance.

 

Replace the word dedication with party.

 

Always have great (big) signage.

Why not Chanel quality photographers for Curved?


Entrances to Chanel and Curved Mobile Art Pavilions

Chanel really thought out the signage.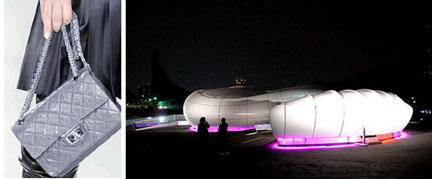 Perhaps one small critique.  Hadid clearly ignored Chanel's request to respond to the 2.55 handbag, yet all the PR celebrates the conceptual relationship.  This blind hype is what gives fashion a bad rap in the artworld.
Jennifer Anne from Curved Collective 
The mobile art truck on my Flickr page was a roving gallery, rather than an interactive public art project like the ones on your blog/web page. Our artist group, the Curved Collective, had participated in Madison's biannual gallery nights in 'traditional' gallery spaces (four walls, a roof and a door) and wanted to do something different. Our Art Truck was a U-Haul in which we displayed our art at 3 different locations over the course of the Gallery Night evening. Some work was hung inside the truck; there was a site-specific installation on the ceiling of the truck; and 2 people had pieces on wheels that they displayed outside the truck at each location. At our second location we were rousted by the cops, who'd been called by the owners of the storefront adjacent to our (completely legit) parking space.
Art Daily Chanel Press Release 
Mobile Art was commissioned by CHANEL and conceived by the company's renowned designer Karl Lagerfeld. It was originally imagined as a means to mark the first appearance fifty years ago of the iconic CHANEL "2.55" quilted stitched-leather handbag. Designed by Coco Chanel, the 2.55 has evolved over the decades into one of the most enduring examples of 20thcentury fashion – a kind of cultural totem collected by museums and coveted by consumers in countries around the world. That bag and the traditions of the factory in France, where it is still made today, were presented to Zaha Hadid and the participating artists as jumping off points for their contributions to Mobile Art. The resulting exhibition is a multi-dimensional meditation on fashion as a powerful, exciting, sometimes perverse and occasionally poignant conductor of fantasy, identity, culture and self-expression.
Zaha Hadid's response to Lagerfeld's Mobile Art concept was to create a pavilion that, like a handbag, is a completely portable and functional container with vast symbolic potential. Made of highly engineered, gleaming white arched fiberglass-reinforced polymer panels, the architect's enigmatic itinerant building is a sculpture in its own right. It is comprised of 700 components that, once assembled, appear to be a very distant abstraction the famous quilted CHANEL handbag. "There is a touch of quilting in the geometrical structure of the art Container," added Karl Lagerfeld.
For Mobile Art, CHANEL assembled a roster of leading contemporary artists with the assistance of Fabrice Bousteau, curator and editor of the art magazine Beaux Arts, and invited each to empty his or her proverbial bag in a singular way. Representing different generations, diverse nationalities and wide-ranging points of view, this group of artists has engaged in an exploration of the handbag as a way to examine an array of experiences, ideas and issues suggested by the intersection of art, fashion and architecture.
Mobile Art launched its two-year worldwide tour in Hong Kong in February 2008, before traveling to Tokyo, where it has been on view at the National Yoyogi Stadium Olympic Plaza. Following its presentation in New York City, Mobile Art will travel to London and Moscow, concluding its tour in Paris in 2010.