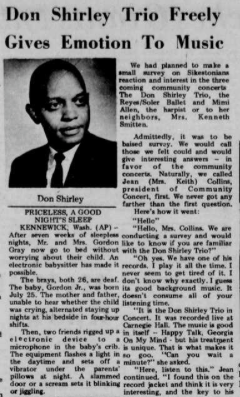 When I wrote a "Sightings" column about Peter Farrelly's
Green Book
for
The Wall Street Journal
in December, I had occasion to
mention in passing
that
Don Shirley,
the pianist who is superlatively well played in the film by Mahershala Ali, gave a concert in the small town where I grew up:
His trio came to my once-segregated Missouri hometown in 1969 to play a concert that made a lasting impression on me. Would that the film's brief performance sequences offered more than a tantalizing taste of his playing! The Shirley I saw on stage a half-century ago was a man of polished urbanity whose private melancholy—he appears to have been a closeted gay—is depicted by Messrs. Ali and Farrelly with sharp, sad clarity.
I recall that concert vividly, in part because it was the first time I ever saw a black musician perform in person. I was thirteen years old and had only just started listening closely and attentively to my father's albums and 78s, many of which featured the likes of Louis Armstrong, Duke Ellington, Erroll Garner, and (my favorite) the King Cole Trio. Unlike them, Shirley wasn't a true jazzman: he was a classically trained musician who took up popular music only after being warned by Sol Hurok, the Russian-American classical-music impresario, that a "colored man" couldn't hope to make a living as a concert pianist in America. From then on, he played his own written-out arrangements of pop tunes and spirituals accompanied by a classical-style "rhythm section" of cello and double bass, and had considerable success doing so throughout the Fifties and Sixties. Nevertheless, Shirley was the closest thing to a jazzman that I'd seen in the flesh, and I was so impressed by him that I blew a week's allowance on a copy of The Don Shirley Trio in Concert, then taught myself how to play by ear the bass part to his arrangement of "Water Boy."
The "Don Shirley" of Green Book is in many ways very much like the man I saw on the stage of the Smalltown Middle School gymnasium, the same stage on which I saw my first play, a high-school production of Blithe Spirit, later that year. Surviving interview footage suggests that Shirley, unlike Ali, was more than a little bit campy, but I was too naïve in 1969 to know a gay man when I saw one. (Not until years later did I finally figure out that my best friend at the time was gay.) What struck me about him, rather, was his absolute self-assurance, a quality that Ali conveys with perfect fidelity.
Needless to say, I couldn't possibly have known what it took for a black man—much less a gay black man—to stand up in front of a white audience in a small town located a stone's throw from the Deep South and conduct himself with that kind of unflappable poise. Shirley hinted at what it took, though, when he spoke to a New York Times reporter in 1982:
I am not an entertainer. But I'm running the risk of being considered an entertainer by going into a nightclub because that's what they have in there. I don't want anybody to know me well enough to slap me on the back and say, "Hey, baby." The black experience through music, with a sense of dignity, that's all I have ever tried to do.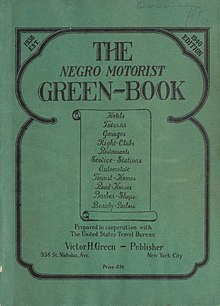 Having written primary-source biographies of Louis Armstrong and Duke Ellington, I've since come to know a lot more about what Shirley must have had to deal with when he made the real-life southern tour portrayed in
Green Book,
which took place seven years before he came to Smalltown. By then, of course, my home town was nominally, if grudgingly, desegregated—I'm just old enough to remember separate entrances for blacks and whites—but I still wonder where he ate dinner before the show, and where he spent the night afterward. Smalltown, as it happens, was never listed in
The Negro Motorist Green-Book
, after which
Green Book
was named. That venerable guide to "traveling while black," the first edition of which came out in 1936, went out of business in 1966, by which time it was usually possible (if by no means always so) for black tourists to find reasonably decent places to stay from coast to coast. My best guess, then, is that Shirley and his sidemen would have been put up at the Holiday Inn on the outskirts of town, since that Memphis-based chain of motels had become well known to touring musicians for its latter-day willingness to accept blacks as guests. I also wonder whether Shirley knew that he was performing a mile or two from the site of the last American lynching to take place outside the Deep South, a fact that would presumably explain why Smalltown never made it into
The Negro Motorist Green-Book
. My father was an involuntary witness to that lynching—he was sixteen when it took place—but he didn't like to talk about it and never brought it up unprompted. As a result, I knew next to nothing about what had happened back in 1942 until I grew up, moved to New York, and
reviewed a book about it.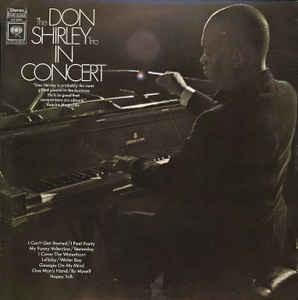 These, however, are reflections very much after the fact. At the time, I knew only that the elegant man seated at the piano was one of the most fabulously gifted musicians I'd ever heard, and listening to him made me think that I might possibly want to become a professional musician, too.
I did, at least for a time, but I never saw Don Shirley play again, and when I read about Green Book last fall, it was the first time I'd thought of him in years. I wish our paths had crossed in later life: I would have liked to tell him what it meant for me to see him perform in Smalltown in 1969. Perhaps it would have pleased him, for he died in semi-obscurity, his great talent all but forgotten.
It is for this reason that I have no trouble forgiving the failings, such as they are, of Green Book. Everyone who watches it, after all, comes away knowing exactly who Don Shirley was, and what he did. I can't see anything bad about that.
* * *
Don Shirley's 2013 New York Times obituary is
here
.
A rare film clip of Don Shirley playing Richard Rodgers' "Happy Talk" in concert, accompanied by Robert Field on bass:
The Don Shirley Trio plays Shirley's arrangement of "Water Boy" at Carnegie Hall in 1968. Gilberto Mungula is the cellist, Henry Gonzalez the bassist: