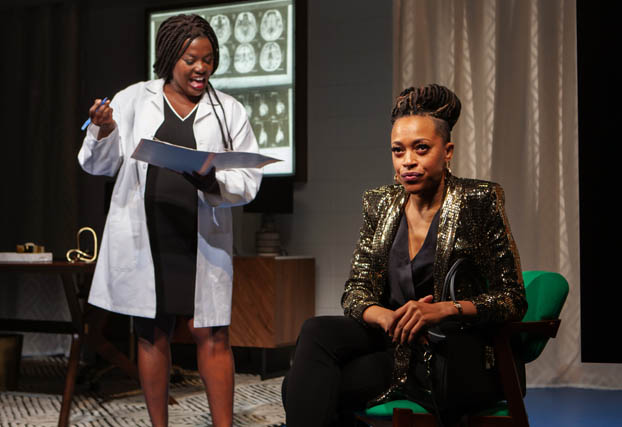 In the three weeks that have gone by since Mrs. T's hospital stays kept me from putting up new postings, I've reviewed four shows for The Wall Street Journal. One of them, Signature Theatre's off-Broadway revival of Lynn Nottage's Fabulation, is still open, and I strongly commend it to your attention.
Here's an excerpt from my review, which you can read here.
* * *
It was Noël Coward who gave one of the best pieces of theatrical advice I've ever heard: "Always come out of another hole." Regardless of whether Lynn Nottage knows that line, she definitely lives by it. Just three months after "Intimate Apparel," her career-making drama about the unhappy love life of an illiterate turn-of-the-century seamstress, opened off Broadway in 2004, Playwrights Horizons gave the New York premiere of "Fabulation, or the Re-Education of Undine," a saber-toothed satire about a snooty member of the black bourgeoisie whose husband siphons out her bank account and blows town, leaving her busted flat and very pregnant. I well remember how flummoxed I was to discover that the author of a play as bleak as "Intimate Apparel" could also be really, reallyfunny.
Four more full-length plays by Ms. Nottage have come to New York since then, each one different in style from its predecessors and each successful in its own individual way. They have established her as a fixed star on the horizon of American theater, one of our best playwrights and the winner of two well-deserved Pulitzers. Indeed, she's been around long enough that her older plays are now starting to receive high-profile New York revivals: Signature Theatre is mounting two this season, the first of which is "Fabulation." I confess to having wondered how funny it would be the second time around. Comedy dates faster than tragedy, and I wasn't sure how well "Fabulation" would hold up. I needn't have worried, for this staging, directed with farceworthy propulsion by Lileana Blain-Cruz, is full of comic punch—wrapped, as is Ms. Nottage's wont, around a hard core of tough-mindedness.
Undine (Cherise Boothe) is a refugee from deepest Brooklyn who once was known as Sharona Watkins. Hers is a tale of unquenchable ambition: She landed a boarding-school scholarship, changed her name, pretended that her unpresentable family had "perished in a fire," launched a "very fierce boutique PR firm catering to the vanity and confusion of the African-American nouveau riche" and spent the next decade and a half kissing up and kicking down. But then the money ran out, and now Undine, dropped by her hoity-toity pseudo-friends, has been forced to slink back home to the projects, hole up with her folks, return to "my original Negro state" and decide on her next move.
What happens next is, up to a point, predictable, but never too much so….