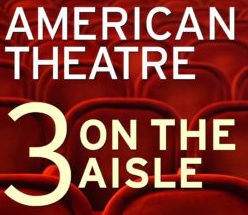 The twenty-third episode of Three on the Aisle, the twice-monthly podcast in which Peter Marks, Elisabeth Vincentelli, and I talk about theater in America, is now available on line for listening or downloading.
Here's an excerpt from American Theatre's "official" summary of the proceedings:
This episode, the critics sit down for an interview with Time Out New York and 4Columns contributor and critic Helen Shaw (she also writes for American Theatre on happy occasion). They discuss Shaw's experience covering the Off-Off-Broadway scene and its inherent challenges, as well as her beginnings in criticism. Then all the critics try to finally figure out what exactly a dramaturg does. Teach Al Pacino yoga, for one—at least that's what she did in her second day as a dramaturg on a production of The Resistible Rise of Arturo Ui….
To listen, download the latest episode, read more about it, or subscribe to Three on the Aisle, go here.
In case you missed any previous episodes, you'll find them all here.