In today's Wall Street Journal I review an important off-Broadway revival of Bernard Shaw's Heartbreak House. Here's an excerpt.
* * *
David Staller is best known as the artistic director of Project Shaw, a series of semi-staged concert readings of the 60-odd plays of George Bernard Shaw that he has presented monthly in Manhattan since 2006. But he has also directed fully staged off-Broadway versions of several Shaw plays, including the Irish Repertory Theatre's 2012 revival of "Man and Superman" and a 2016 production of "Widower's Houses" mounted in collaboration with the now-defunct TACT/The Actors Company Theatre, both of which were not merely excellent but exceptionally memorable. Now Mr. Staller has taken on "Heartbreak House," one of Shaw's most challenging plays, with altogether extraordinary results.
"Heartbreak House" was long one of Shaw's least popular plays, mainly because of its verbosity (the 1920 premiere ran for more than four hours). Since it went out of copyright, though, it's come to be staged more often in the U.S., in part because, like "Hamlet," it can now be cut to a manageable length. This also allows directors to put a personal spin on Shaw's acid portrait of the Shotovers, a family of haute-bourgeoisie eccentrics whose members, for all their charm, are (as one of them puts it) "useless futile creatures" who decline to do anything to fix the corrupt, unjust Vicwardian society in which they live. Instead, they look on placidly at the German planes that bomb their country villa at play's end…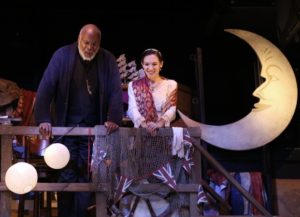 Unlike the other "Heartbreak Houses" that I've reviewed, all of which were essentially traditional in approach, this version, which runs for a coruscating two hours and 40 minutes, is a conceptual staging, one whose ingenious framing device intensifies the effect of Shaw's text instead of smothering it. Inspired by a wartime performance of the play in which Hermione Gingold took part during the London Blitz of 1940, it is set in a theater basement that has been lined with sandbags and turned into an air-raid shelter. As the sirens howl, the occupants of the theater take cover, and the actors who had been performing for them upstairs now entertain their captive audience by improvising a version of "Heartbreak House" using the props stored in the shelter.
Doing "Heartbreak House" in this way requires a perfectly believable set, and Brian Prather and Toby Algya, the scenic and sound designers, deliver the goods, turning the Lion Theatre into an exact replica of a cluttered London bomb shelter….
It is, however, Mr. Staller's direction that gives wing to the show. The scale is very small—the Lion Theatre has only 88 seats—and the theatrical effects mostly subtle, as befits a director who has put together so many staged readings of Shaw's plays on a budgetary shoestring. But every gesture lands with the utmost potency…
* * *
Read the whole thing here.
London Can Take It!, a 1940 British propaganda film about the London Blitz directed by Humphrey Jennings and Harry Watt and narrated by Quentin Reynolds: