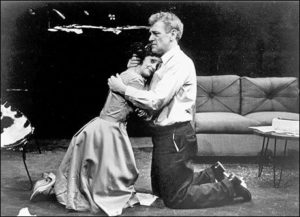 John Mahoney, who died today at the age of seventy-seven, was an actor whose talents were discovered comparatively late in life—he became a member of Chicago's Steppenwolf Theatre Company in 1977, having previously worked as an English teacher and the editor of a medical journal—and who was known throughout the first part of his career only to those fortunate enough to have seen him on stage. Fortunately, their numbers increased considerably as a result of his appearance in the original Broadway cast of John Guare's The House of Blue Leaves, one of the most important American plays of the postwar era, for which he won a Tony Award. In part as a result of The House of Blue Leaves, Mahoney started appearing in movies, many of which, like Moonstruck and In the Line of Fire, were both popular and of exceptionally high quality, and in 1993 he became a charter member of the cast of Frasier, which made him famous.
For all his success on TV and on the big screen, Mahoney never lost his love for stage acting. "The theater is my brothers, my sisters, my father, my mother, my wife," he told a reporter. I reviewed him on stage twice, in the 2007 Broadway revival of Prelude to a Kiss and Steppenwolf's 2009 production of Conor McPherson's The Seafarer, and was dazzled both times, writing of the latter performance:
John Mahoney, who plays Sharky's older brother, is a longtime Steppenwolf ensemble member who is better known to TV viewers as Martin on "Frasier." The grumpy charm with which he invested that now-familiar part is nowhere to be seen on stage in Chicago: Instead Mr. Mahoney shows us an angry, querulous man who is trying to come to grips with his mortality, and does so with glittering precision and economy. When he cries "I have so little left to live for" midway through the first act, you'll shiver with sympathy.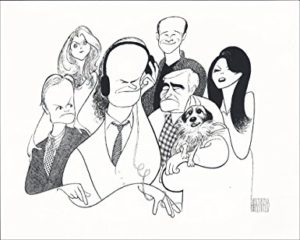 A lifelong bachelor, Mahoney lived quietly in Chicago, a city for which his affection never diminished in the slightest. He mostly kept himself to himself, though he did confess in 2008 that after a bout with colon cancer that forced him to have a colostomy, he was no longer comfortable with physical intimacy: "I'm very happy by myself and with my friends, but no, I'm definitely not involved with anybody. Nor do I ever look to be." It was a surprisingly frank and poignant admission for a man who was content to stay out of the spotlight, living for the work he did so well.
I always hoped to see and review Mahoney again, but the opportunity never came, and the news of his death made me feel as though I had lost a friend. Fortunately, he left behind ample evidence of his talent, of which posterity will be in no possible doubt. He was the very model of a great character actor, and he will be very greatly missed.
* * *
Chris Jones' Chicago Tribune obituary is here.
John Mahoney accepts the Tony Award for his performance in The House of Blue Leaves:
A scene from Frasier: