The Wall Street Journal has given me an extra drama column today to report on two Broadway openings, An American in Paris and It Shoulda Been You. One's a triumph, the other a clunker. Here's an excerpt.
* * *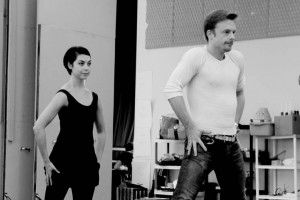 Christopher Wheeldon, the most prodigiously talented ballet choreographer of his generation, has followed in the giant footsteps of Jerome Robbins, his one-time mentor, by directing a Broadway show. "An American in Paris," a new theatrical version of Gene Kelly's Gershwin-themed 1951 screen musical, instantly catapults Mr. Wheeldon into the ranks of top-tier director-choreographers, by which I mean Robbins and Bob Fosse. It's been years—decades, really—since I last saw production numbers that were infused with the kind of rich, sustained creativity that Mr. Wheeldon gives us throughout "An American in Paris." This is what musical-comedy dance can look like when it's made by a choreographer who knows how to do more than just stage a song. Once you've seen it, you'll know what you've been missing, and find it hard ever again to settle for less.
I should immediately add, though, that you needn't know anything about ballet to fall for "An American in Paris," any more than you have to be a dance critic to love the Fred Astaire-Ginger Rogers movies. It's a diamond-studded jukebox musical, a boy-meets-girl tale set to the songs of George Gershwin that has been designed to super-spectacular effect by Bob Crowley. Robert Fairchild, the New York City Ballet principal dancer who has been cast as Jerry Mulligan, the American artist played by Kelly in the film, is an unbelievable find, a virtuoso hoofer who also sings and acts with Kelly's nonchalant flair….
Craig Lucas' book is a snout-to-tail rewrite of Alan Jay Lerner's fluffy screenplay, to which Mr. Lucas has added a sometimes heavy-handed but mostly welcome touch of grit, resetting the show in the twilight world of collaborators and concealed Jews that was Paris in 1945. The heightened dramatic stakes of his new plot justify the heightened emotions of Mr. Wheeldon's dance sequences, the most extraordinary of which is the climactic 13-minute title ballet. In an act of supreme imaginative daring, Mr. Wheeldon has turned Gershwin's 1928 tone poem into a plotless neoclassical ballet in the style of George Balanchine—but one that doubles as a symbolic reenactment of the love story of Jerry and Lise. Not since "West Side Story" has dance been used to such overwhelming effect on Broadway….
"It Shoulda Been You" is a plastic statuette for the tourist trade, a nice-Jewish-girl-marries-nice-Catholic-boy musical farce that is by turns desperately unfunny and relentlessly preachy. Brian Hargrove's been-there-done-that plot (Tyne Daly's Jewish mom is a monster of tactlessness, Harriet Harris' Catholic mom a boozehound) was already a cliché a half-century ago, and today its whiskery stereotypes are a millimeter away from being actively offensive. As for Barbara Anselmi's music, it sounds like a medley of discarded theme songs from the pilots of failed '70s sitcoms….
* * *
To read my complete review of An American in Paris, go here.
To read my complete review of It Shoulda Been You, go here.
The trailer for An American in Paris: