In the first of three season-wrapping drama columns that will appear in The Wall Street Journal this week, I review the Broadway transfers of Fun Home and Living on Love. Here's an excerpt.
* * *
"Fun Home," the Lisa Kron-Jeanine Tesori musical version of Alison Bechdel's gripping 2006 "family tragicomic" about her uneasy relationship with her troubled father, has transferred to Broadway after a spectacularly and deservedly successful run at the Public Theater. Sam Gold, the director, has done a most impressive job of transforming a chamber musical into a Broadway-sized show—albeit one on the smallish side. It helps that he's chosen to stage it in the round, thereby bringing the players even closer to the audience.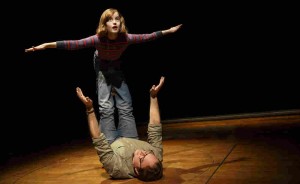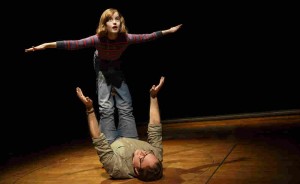 All that said, "Fun Home" is still the same musical that I saw downtown in 2013. While the performances are bigger in scale and more emotionally intense, the show remains essentially untouched: It's a sentimentalization of a book that was noteworthy for the chilly detachment with which Ms. Bechdel portrayed Bruce, her father (Michael Cerveris), a closeted gay small-town high-school teacher who runs a funeral home on the side. He becomes sexually involved with several of his male students, then kills himself by jumping in front of a truck shortly after his daughter (played at different ages by Beth Malone, Sydney Lucas and Emily Skeggs) tells him that she's a lesbian….
I wanted more out of "Fun Home" when I first saw it, and I still do. If you haven't read the book, though, you won't know or regret what's missing from the stage version: The songs are engaging, the production ideal, and the cast is even better on Broadway than it was downtown, with Mr. Cerveris and Judy Kuhn (who plays his long-suffering wife) once again outdoing themselves. Mr. Cerveris might just be the best musical-theater performer we have…
Renée Fleming, the star of "Living on Love," is a world-famous opera singer who's never acted in a play. Joe DiPietro, the author, is a musical-comedy specialist (he wrote the book for "Memphis") who is new to straight plays. So is Kathleen Marshall, one of Broadway's top director-choreographers (her last musical was "Nice Work if You Can Get It"). All three, in other words, are far out of their comfort zones—and it shows. "Living on Love," Mr. DiPietro's rewrite of "Peccadillo," a 1985 play by Garson Kanin that never made it to New York, is a sentimental farce that might recall one of the lesser efforts of George S. Kaufman and Moss Hart were it not for one minor problem: It isn't funny. Not even slightly so. Indeed, it's so unfunny as to make the viewer despair of ever laughing again, much as a starving man might despair of ever eating again….
* * *
To read my complete review of Fun Home, go here.
To read my complete review of Living on Love, go here.
A montage of scenes from the original 2013 Public Theater production of Fun Home: