I have nothing but good things to say in today's Wall Street Journal drama column about the off-Broadway revival of The Cocktail Party, and next to nothing but bad things to say about the Broadway transfer of Red, the new play about Mark Rothko. Here's an excerpt.
* * *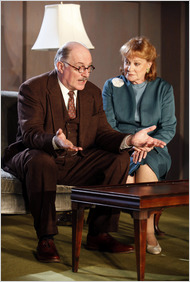 Here's a statistic that will make you jump: The original Broadway production of T.S. Eliot's "The Cocktail Party" was a commercial hit that played for 409 performances. It also won its author a Tony Award. Of course that was in 1950, back in the days when it was taken for granted that anyone with a college degree in anything wouldn't need to be told who wrote "The Love Song of J. Alfred Prufrock," and could probably even quote the first three lines from memory. Eliot actually turned up on the cover of Time, though not until two months after "The Cocktail Party" opened, which says much about how central the play once was to his reputation.
Times have changed, and so has Eliot's reputation. Just as his Christian conservatism is now viewed with bristling suspicion by academics whose benighted parents and grandparents thought him a genius, so have "The Cocktail Party" and his other postwar verse dramas vanished from the stage. The Actors Company Theatre's Off-Broadway revival of "The Cocktail Party" marks the first time in four decades that the play has been performed in New York….
If you're willing to suspend religious disbelief and give Old Possum a chance to do his stuff, then I suspect you'll be transfixed by the stealthy skill with which he goes about the challenging task of making sainthood comprehensible to a secular audience. It helps that this production, transparently directed by Scott Alan Evans and simply but elegantly designed by Andrew Lieberman and Laura Jellinek, is being performed with élan by a high-class ensemble cast….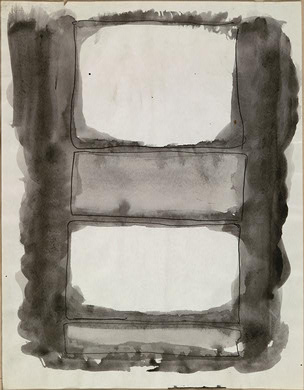 I've never reviewed a play about a great artist that was remotely true to life. It isn't just the facts that playwrights get wrong: it's the feel of the day-to-day existence of the kind of person who is prepared to subordinate all else to the quest for beauty. While this may sound dramatic, the drama mostly takes place inside the artist's head, and unless he beats his wife in between making masterpieces, there tends not to be a whole lot to see. That leaves us with conversation, and the chit-chat of artists usually alternates between shoptalk and gossip, which is interesting if you're in the business but otherwise pretty dull.
Mark Rothko, the subject of John Logan's "Red," was a different breed of cat, one who liked to talk–a lot–about his theories of art. These, however, were fairly windy, and so is Mr. Logan's play, in which Rothko is portrayed as a Borscht Belt blowhard ("Nature doesn't work for me–the light's no good") whose bullying conceals the proverbial and all-too-predictable heart of gold. Alfred Molina, under normal circumstances a consummately fine actor, is here inexplicably reminiscent of Sgt. Bilko…
* * *
Read the whole thing here.