The Wall Street Journal's much-discussed New York section was rolled out this morning. As part of the general ballyhoo, I've been asked to write a second weekly drama column for the Journal, this one specifically for the new section. The new column won't run on a specific day, but will be published on the morning after the opening of whatever show I happen to be reviewing. Subscribers to the national edition won't see it, alas, but anybody can read it on line.
My inaugural column is about the Broadway revival of Promises, Promises, which I regret to say is a major disappointment. Here's an excerpt.
* * *
When a hit musical drops out of sight for nearly four decades, there's usually a reason. In the case of "Promises, Promises," which is being revived for the first time on Broadway since the original production closed there after a 1,281-performance run, the reason is obvious: It's no good. Nor is Rob Ashford's big-budget mounting likely to win many new friends for the 1968 Burt Bacharach-Hal David-Neil Simon adaptation of Billy Wilder's "The Apartment." Not only is it dully staged, but it's so miscast that even Kristin Chenoweth, normally one of Broadway's hottest commodities, looks like she showed up at the wrong theater.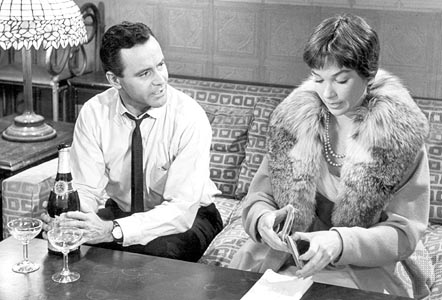 To be sure, it's easy to see why Messrs. Bacharach, David and Simon thought it a good idea to turn "The Apartment" into a musical. Wilder's 1960 movie is one of the sharpest-witted romantic comedies ever filmed, a sweet-and-sour tale of workplace fornication in which every laugh has a sting in the tail. It was also perfectly cast, with Jack Lemmon playing the role of C.C. Baxter, a corporate hireling who makes his apartment available to Fred MacMurray, his married boss, for after-hours trysts with Shirley MacLaine, the delectable elevator operator whom both men crave.
That's where the trouble starts with "Promises, Promises." Problem No. 1: Ms. Chenoweth plays Fran Kubelik, the shopworn waif who is so devastated by her lover's faithlessness that she takes an overdose of sleeping pills. I'm one of Ms. Chenoweth's staunchest admirers, but her gifts do not include the ability to suggest vulnerability, and it is impossible to imagine that so self-assured a woman would even contemplate suicide, much less attempt it. As a result, her performance is dramatically unbelievable…
This brings us to the deficiencies of the show proper. In the film, Baxter supplies an introductory narration that sets up the plot, then lets the viewer figure the rest out for himself. In the musical, he narrates from start to finish, a bad idea that kills the momentum stone dead and is made worse by Mr. Simon's habit of stuffing his speeches full of jokes that might been funny in 1968 but are now about as stylish as a Buick with fins.
As for the score, it consists of a string of chirpy soft-rock ballads like the title tune and "I'll Never Fall in Love Again" that were heard around the clock on AM radio back in the days of Herb Alpert and the Tijuana Brass (which doubtless explains why the original production of "Promises, Promises" was so huge a hit). One of them, "A House Is Not a Home," is a beautifully turned piece of work that has since been taken up by such jazz greats as Sarah Vaughan and Bill Evans. The others are so similar-sounding as to approach indistinguishability….
* * *
Read the whole thing here.
UPDATE: A reader advised me this morning that the original online version of this column was behind the Journal's paywall. I now have a link in place that should be accessible to everyone.