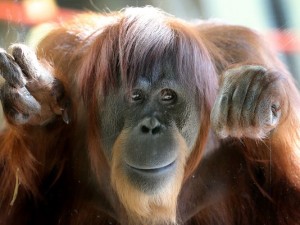 The Indianapolis Zoo has adopted dynamic pricing. The policy is combined with increased differentiation in prices between low-demand weekdays and high-demand weekends, and a general increase in prices arising from the increased demand that will flow from the new orangutang exhibit. The Indiana Business Journal reports:
The zoo expects the move to generate more revenue as well as keep peak-day crowds to a more manageable level, improving the visitor experience. Officials are projecting 2014 attendance of 1.28 million, a 24-percent jump over 2013 and the highest count in years.

"The significant advantage this model offers to visitors is to save money by purchasing further in advance and [visiting] during the week," said Karen Burns, the zoo's senior vice president of external relations. "Prices are dynamic, which means that people need to lock in their lowest price by buying online as the prices are subject to increase."
Does this make sense? I think it does. I speak from experience in visiting this zoo, that it is less enjoyable when very crowded, and so pricing as a mechanism to even out the distribution of customers, encouraging more people to visit on otherwise quiet days and fewer people to visit on otherwise crowded days is a good idea. This is accomplished in two ways by this scheme – posted differential prices in advance (and advance tickets can be obtained online) for times when the zoo knows well in advance which days are more and less popular, and the addition of dynamic pricing for when there are unforeseen fluctuations in demand.
I have written before about why I don't think we see much dynamic pricing in the arts; presenters don't want to reveal low demand for shows for fear of sending an adverse signal about the quality of the production. But the zoo is more like professional sports than the arts, in the sense that customers know in advance what they are getting (unlike the case for a play or a novel, which we can't know much about until we have experienced them). If zoo ticket prices fall for some Tuesday in September, it won't make me think that the animals will be less interesting on that day, in the way that falling prices for a new play might indicate to me that it is not a very good play.
Is the new system bad for low-income customers? Just focusing on differential pricing by day, plus dynamic pricing, I do not think so. It gives a range of price options rather than a single one, and low-income customers can take advantage of the low-price options. People on a budget are generally glad there are half-price day-of-show theatre tickets, cheap Tuesdays at the movies, and paperback versions of books.