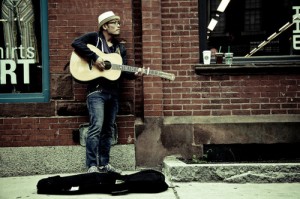 The Washington Post reports that Forum Theater will not charge an advance price on tickets, but instead will have audience members pay after the show, whatever amount they think is right:
Michael Dove, Forum's artistic director, says that he has long been concerned about what it means to be a nonprofit theater — an enterprise supported to some degree by taxpayers — that is beyond the financial reach of many consumers. "The one thing I wanted to take a crack at is how do we make theater accessible to everyone, and get past the idea that it's only for someone in a certain economic bracket," he said. …

Theater companies, like other nonprofit performing arts institutions, are sensitive to perceptions that ticket prices are prohibitive. They create varieties of programs, ranging from pay-your-age offers for young adults, to software-guided pricing that rises and falls according to demand, to mitigate the high cost of theater-going. But few companies are lean enough to turn the occasional practice of pay-what-you-can performances into a routine facet of their business.
The story seems to be a bit confused as to what this ticket-pricing strategy is really about (how exactly does dynamic pricing 'mitigate the high cost of theater-going'?), so let's try to break it down.
Producing a play costs money, and the revenue to cover costs has to come from somewhere – donations or ticket sales or ancillary sales. As long as there is a high cost of theatre production, there has to be a high cost of theatre-going, if the company is not to go into bankruptcy – tanstaafl and all that. So what does pay-as-you-will ticketing do? It allows the possibility for those with limited means to attend a show more cheaply, or even for free. That's great, but if the company is to continue producing shows at the same cost, there needs to be a corresponding increase in revenue from some other source. I see two possibilities there. One is that donations might increase in response to the policy. The other is that enough audience members will actually pay more than what would have been the revenue-maximizing ticket price, when the hat is passed around at the end of the show.
If a theatre company or museum is to adopt this strategy, it has to have some idea of where the revenue is coming from, one that is not just based upon wishful thinking. I've not seen any study (beyond the anecdotal) that the strategy works – if you know of any let me know.