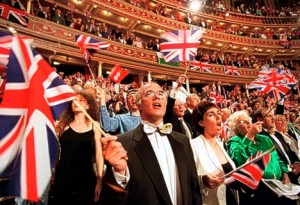 The Observer reports that scalpers (or touts) are making a killing on tickets for the Proms: #
One unofficial online site is offering seats for the Doctor Who-themed Prom on 14 July for £500, compared with the official flat-rate price of £12. A ticket for the first night on 12 July is offered for £400, against an original value of £38. #

It is not just fans of the Proms who will be disappointed this summer. Many events in the coming months have already sold out – including the Rolling Stones' Hyde Park concert – with the only tickets available on websites fetching way above face value. Now campaigners are calling for the government to crack down on the touts. #

Labour MP Sharon Hodgson, shadow minister for children and families, wants ticket-touting to be made illegal. "Families and music lovers are missing out on a British institution just so that a few individuals can make a fortune. The government needs to use the upcoming consumer rights bill to take action on touting and put the fans first." #
Mark-ups like this have always presented a bit of a puzzle. There are only so many seats available. Ms Hodgson is not quite right:
some
families and music lovers will miss out, but others will not, and the same number of people will attend the Proms whether or not there is ticket resale. If the initial ticket price is kept low, and resale is effectively put to a stop (which
can
be done, but at some cost; note that airlines are very successful at ensuring only those whose names first appear on the ticket are able to fly), then tickets are allocated according to who first joined the queue. If the price is set at the maximum price that would still generate a sell-out, or if ticket resale is fully allowed, then in the end tickets are allocated according to who is willing to pay the most. The same
number
of people attend in each case, but it is a different group of people.
#
Who benefits? Think of three groups: the concert producer, the concert attendee, and the scalpers. Suppose the cost of putting on the concert is C per person, and the value the attendee places on the concert, also known as their reservation price, the most they would be willing to pay for a ticket, is B. Then the total net value of a ticket is B minus C, and this is somehow divided between the producer, the attendee, and the scalper. If the attendee could buy a ticket at a price equal to C, the attendee gets all the net benefit, the producer gets no profit, and the scalper is shut out. If the producer could perfectly price discriminate, charging each buyer their personal reservation price, then the producer gets all the benefit B minus C, and the attendees and the scalpers get none. If the scalper buys a ticket at price P and resells it at R, then the net benefits are divided such that the producer gets P minus C, the scalper gets R minus P, and the attendee gets B minus R. #
So why do producers set a price that virtually invites ticket resale? Why not try to price discriminate as far as possible? We know that sellouts can be desirable for a number of reasons, but they must have known they could charge a higher price and still sell out. #
Some possibilities. One is that they do not mind having tickets sold at a low price and allocated by queue – it allows at least some people in who have limited means. Individuals who buy tickets often hang on to them even when resale prices rise a lot: psychologists have found that we tend to change our valuation of goods once we have them in hand, and so will only resell at a price significantly higher than what was paid in the first place. A second is suggested by Pascal Courty in this very interesting (and not too highly technical) paper from the Journal of Economic Perspectives: that scalpers are a way to facilitate the fact that buyers differ in when they want to buy tickets – there are lower income diehards who will queue early to ensure they get a ticket, and higher income busy professionals who wait until the last minute to see if they will have the time to attend, and provide the demand for scalpers tickets (after all, Doctor Who tickets are only being sold at £500 because someone is expected to be willing to buy them at that price). The use of dynamic pricing by concert producers might limit the role of ticket resale to some degree, but, for various reasons, dynamic pricing has not caught on so much in the arts. #