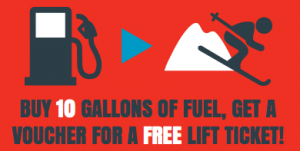 LOVEtheatre of London will provide me with a special deal: I can get two tickets to Wicked, together with two "free" meals (drinks not included) to be chosen from a short list of participating restaurants. But if they want to attract me to Wicked, why not just lower the ticket price? Why give me the discount through a dinner for two? Delta airlines will save me money on a trip to Puerto Rico, but only if I stay at the Sheraton, and the trip is for three nights. If I buy gasoline from Shell, I can get a discount on a ski lift pass. But what do these things have to do with each other? Why not a deal on an oil change?
These firms are all engaged in a subtle form of price discrimination. The problem they are trying to solve is this: how do we offer a deal for those potential customers who are somewhat on the fence when it comes to buying from us, without lowering the price for those who we know are something of a "sure thing", and willing to pay a high price? How do we lower the price for one group without lowering it for everybody?
The solution is to offer a deal as part of a bundle that only the on-the-fence customers will find interesting. Consider the dinner + theatre example. I will guess that those with a high reservation price for tickets to the theatre – residents of London who are regular attendees at musicals – are not particularly interested in this selection of restaurants. They will have their own favorite places, and are unlikely to take up this offer. Rather, the package deal will be attractive to those on a stricter budget, perhaps tourists who are unsure of where to eat in London, who will find this a good option. The bundle serves the purpose, then, of offering something attractive to those on the fence, without offering a general price cut that would be taken by everybody.
The other examples follow the same pattern. Delta is offering a deal to the price-conscious vacationer, who won't mind a stay at the (if I may generalize) safe and predictable Sheraton, while those with more to spend, or business travelers, will not take up the offer, instead just opting for a plane fare. Shell is likewise attracting a particular group of bargain-hunters, without simply lowering prices for gasoline more generally.
The rule of thumb: if your arts organization is looking to offer a package, it need not be something closely related to what your organization does,* what is key is that it be something attractive not to all your potential audience, but just those who are on the margin between attending your show or not.
Footnote: My former professor Preston McAfee provides in his book Competitive Solutions one of my favorite examples, the Detroit clothier who advertised "buy a suit, get a drill", where suit buyers would indeed get a discount on a purchase of a drill.